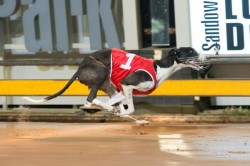 By JASON ADAMS
YOUNGSTER Gimme Fuel claimed his first win at Sandown Park last Thursday night, the first of three winners for Group 1 winning trainer Kelly Bravo.
Gimme Fuel began fast from box one before having a slight bump with Lektra Bianca shortly after the start, but accelerated away and lead all the way easily winning by eight lengths in a smart time of 29.49.
Gimme Fuel was undefeated after his first five race starts, but his inconsistent early pace has previously landed him in traffic.
''He can be a bit hit or miss out of the boxes, I think it's something he will get better at over time'' said Bravo.
At not even two-and-half years-of-age Gimme Fuel has a big future ahead of him, already having eight wins from just 18 starts and with last Thursday's win elevating his prize money to $34,900.
Plans were for him to compete in the Group 2 Great Chase series throughout October, though he was not at the fitness level needed to progress through the series, Bravo saying; ''He wasn't up to scratch at that stage, he wasn't at peak fitness and had a lot of improvement left in him.''
Bravo completed a winning treble taking out races 9, 10 and 11 making it three from three with Gimme Fuel, Chinchero and Take Charge all saluting for the Lovely Banks trainer.
Gimme Fuel also started a short priced favourite in last week's heat of the Paws of Thunder at Wentworth Park, he began poorly and found traffic before finishing towards the rear of the field.
Sandown is celebrating Australia Day early this Thursday night, with $2 specials on house beer and wine, soft drink, sausages, face painting and not forgetting $2 kids show bags.
Sandown will also be hosting the Sensational Summer for Kids on Sunday 26 January, including activities competitions and prizes on the day as well as free food and drinks.