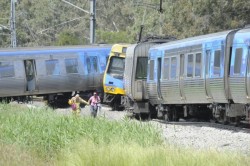 By CASEY NEILL
A NARRE Warren truck driver has been ordered to stand trial in the Supreme Court over a fatal train crash in Dandenong South.
Melville John Bollen, aged in his 70s, last week pleaded not guilty to 44 charges in the Melbourne Magistrates' Court over the November 2012 collision, including culpable driving causing death.
Police allege he drove a prime mover with trailer through lowered boom gates as he travelled west on Abbotts Road, and collided with a train shortly after 11.40am on Saturday 3 November.
The train derailed, injuring 14 people and killing Cranbourne West passenger David Cron, 43.
The court last week heard Mr Bollen had worked nine days in a row without a rest before the crash and that his memories of the incident were "a bit hazy".
Another truck driver gave evidence that he was at the crossing and saw Mr Bollen driving toward the gates with his head bowed.
A crash at the same level crossing five years earlier claimed a 53-year-old Garfield woman's life.
The collision prompted calls from trackSAFE, the state opposition and the City of Greater Dandenong to remove level crossings across the state.
The Committee for Dandenong has since been pushing for a toll road to bypass the Abbotts Road level crossing to ease railway crossing congestion.
A pay-for-use road between the two sections of Remington Drive, to link directly with Pound Road and the freeway, would sidestep the need for intense government funding and could fast-track the project.