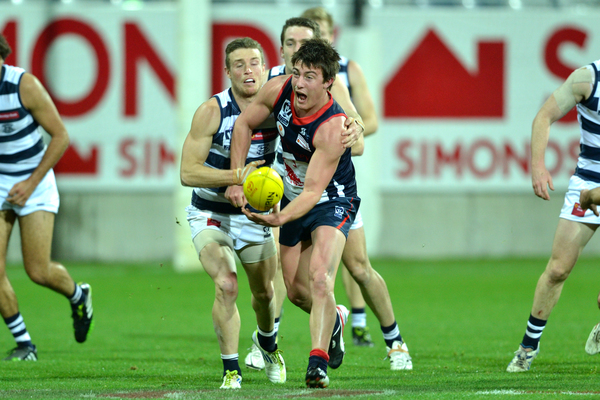 By JARROD POTTER
THE revolving door at Noble Park has been swinging.
While a number of players have left the 2015 EFL Division 1 finalists, the Bulls have managed to bring in plenty of future talent for the 2016 season.
After its early exit from last season's finals race, the Bulls have made plenty of changes including big name inclusion – Casey Scorpions' midfielder Mitch Gent.
After 60 VFL senior appearances with Casey, since joining the club in 2011, Gent, 23, from Chelsea Heights, made the choice to return to local football from the VFL as he couldn't devote that much time to football anymore.
While Gent remained a strong contributor in the VFL – finishing third in Casey's best and fairest – the workload took its toll.
"I probably didn't enjoy my year as much this year – I found myself at times getting a little bit tired of all the training commitments and sometimes I was finishing work thinking I couldn't be bothered going to training," Gent said.
"But at the same time I loved playing at that level – that was a really tough decision knowing how I felt throughout the year.
"The time commitment of the VFL and the lifestyle balance is what sort of in the end got me to leave."
Gent can't wait to become part of the Bulls' club culture on and off the ground – something he hasn't had too much experience with in the elite football system.
"The big thing I'm looking forward to is a club atmosphere at the local footy club," Gent said. "The VFL I guess at Casey as a club is probably not as much of a club feel – it's more of a talent pathway and a footy program.
"Coming through the TAC Cup and into the VFL, I've never really experienced a true club atmosphere so that's a big one and on-field I'm looking forward to hopefully still playing some really good footy.
"I still think I can improve as a player, even though I'm not in the VFL anymore."
Noble Park coach Mick Fogarty said Gent should mesh nicely in the Bulls' engine-room alongside Craig Anderson and Kyle Martin as he's an asset on and off the field.
"We're rapt," Noble Park coach Mick Fogarty said. "Mitch comes with a terrific pedigree- played top line footy for Casey for a number of years and it's not just his ability on the ground, but his leadership off it too as he's a class person."
Another to make the leap is Beaconsfield champion Tyson Mitchem, who returns to his former home where he won the 2012 best and fairest.
Narre Warren's Ben Giobbi and Ryan Morrison have made the step across from South East Football Netball League to the Eastern ranks for 2016, as well as Josh Docherty (Phillip Island).
Leaving the Bulls are Dan Keelty, Jarryd Plymin, Luke Mann and Daniel Galante (Beaconsfield) while Glen Manson (injury) and Vergim Faik (overseas) will leave a massive hole in the Bulls' ruck division.
Also a speculated move for injured midfielder Shane Valenti to Old Haileybury remains a possibility.
"We've lost a couple -there's no doubt about it, but they've been terrific servants to our club and wish them the best in their future endeavours," Fogarty said.
"Valenti has an offer of something outside of football that there's something he's got to weigh up with Old Haileybury … if that's the way he goes, we'll thank him for the year we had, but it's not official yet."
Fogarty said the club was also pursuing two more of Gent's Scorpions team mates Will Petropoulos and delisted Demon Rohan Bail, while Beaconsfield forward Taylor Joyce is another high-calibre recruit on the radar.