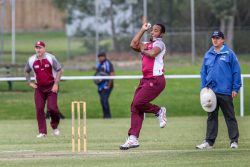 By Nick Creely
It's not every day that a local cricket club is lucky enough to host an ICC associate nation, but DDCA club North Dandenong had the privilege of welcoming Cricket Fiji to Lois Twohig Reserve on Sunday 12 February.
In a friendly game for the Fijians before their ICC World Cricket League Qualifying tournament in Australia, the Maroons played the visitors in a Twenty20 match in front of a healthy crowd.
The barbecue was firing as the local community streamed into the ground about noon and Fiji's captain Jikoivanualevu Kida elected to bat.
The Fijians showed some class but it was a terrific bowling performance from the Maroons that restricted the visitors to 7/105 off their 20 overs.
Guest marquee Chrishna Graham from Jamaica was excellent with the ball, taking 2/12, while Qamar Awan (2/21) and Ringwood's Jake Wigney (2/23) took multiple wickets.
But the highlight was perhaps Sateesh Kulkarni with two classical catches while Brendan Lazarus was excellent behind the stumps.
And what a finish it was with the Maroons chasing down the meagre total with one wicket to spare and four overs to play, finishing on 9/108.
In a match where no batsman gained much momentum, Declan Fowler (22 not out) was the standout for the Maroons, while Graham (21) was also among the runs.
The Maroons were missing a host of their regular Turf 1 players, highlighting the improving depth around the club.
North Dandenong's Squad
Nasrat Malikzada (captain)
Brendan Lazarus (keeper, Clayton Districts)
Chrishna Graham (Jamaica)
Syed Mehmood
Caleb Millman
Jason Batty
Jake Wigney (Ringwood)
Declan Fowler
Matthew Jacobs
Sateesh Kulkarni
Qamar Awan
Javed Khan (Kingston Hawthorn)
Fiji's Squad
Jikovianualevu Kida (Co-captain)
Sekove Ravoka (Co-captain)
Maciua Gauna
Viliame Yabaki
Imran Khan
Viliame Manakitoga
Seru Makutu Tupou
Josefa Dabea Baleicicia
Riyad Khan
Josaia Baleicikobia
Peni Volavolva Vuniwaqa
Vilikesa Nailolo
Cakacaka Cokovaki
Cakacaka Veretaki
In other news around Lois Twohig Reserve, Maroons Turf 1 star Clayton McCartney struck a glorious 114 from 109 balls, in the final of The National Indigenous Cricket Championships against NSW on 13 February.
In the eight-game tournament, McCartney struck 262 runs at 37.4, and made a string of 30s throughout the week.
In Turf 1, McCartney has made 241 runs at 24.1 and could be courted by Victorian Premier Cricket clubs.