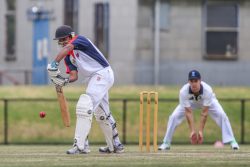 By Nick Creely
The strength and power of the Dandenong District Cricket Association has culminated in two highly impressive representative wins in the last week.
On Sunday 12 February, another incredible century by Cranbourne champion and DDCA skipper Matt Chasemore (his fifth of the year), led the DDCA to a commanding victory over their rival association South East CA at Ben Kavanagh Reserve in Mordialloc, their third in a row.
Winning the toss and batting, the DDCA, led by Chasemore (117) and Mordialloc all-rounder Ian Daniel (34), flayed the ball to all parts, with Parkfield's Travis D'Souza (28) also chiming in with some handy runs.
By the end of the 40 overs, the DDCA had racked up a dominant total of 8/258 at an ominous run-rate of 6.45.
And the SECA was no match to the prowess of the DDCA bowling unit, rolled for just 168 off 36.3 overs – Daniel (2/6) was once again impressive, while Berwick captain Jarrod Goodes (2/40) led the attack and Jagveer Hayer (2/5) found some quick wickets.
Sky-high on confidence, the DDCA then met Victorian Premier club Dandenong in their annual Twenty20 match on Wednesday 15 February.
The match, played at Carroll Reserve in Dandenong, has always been a high-quality spectacle between the two sides.
Once again, the DDCA elected to bat on a highly renowned batting deck, fronting up against a Dandenong side with a large string of their top-players out, but still enough stars in their side to cause some headaches.
But the star within Ian Daniel (62) shone once again, playing a stellar knock to lift the DDCA to an imposing total of 5/167 off its 20 overs.
Others among the runs were Chasemore (33) and Mordialloc's Damith Rapa Malage (36 not out), who both played handy support roles and were highly creative with their stroke-play.
It was then Jurgen Andersen (3/9) who took over proceedings, bowling a vintage spell to bowl out the Panthers for 111 off 17.4 overs.
Travis D'Souza (2/3) and Ruwantha Kellepotha (2/14) were valuable support acts in a dominant performance, while the fielders forced three run-outs in an impressive display of teamwork.
Attention will now turn to the highly anticipated DDCA Twenty20 finals on Wednesday 22 February between Cranbourne and Buckley Ridges at Park Oval in Dandenong.
Both sides have had flawless campaigns, with the Eagles only two weeks ago tasting victory in the Cricket Victoria Regional Big Bash, and will undoubtedly go into the match as the favourites.