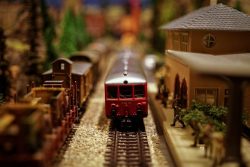 Australia's biggest model train exhibition will spring up in Springvale this weekend.
The 11th annual Train and Hobby Show is on from 10am on Saturday, Sunday and Monday.
There'll be working model train layouts, miniature train rides, trackless Thomas for the kids, radio control drift cars, rock crawlers, short truck racing and model aircraft club displays.
Sunday's program includes a 250kph F1 Air Race, 350kph FAI pylon racer, 250kph helicopter, jets, aerobatics and extreme stunt flying.
There'll also be a buy, swap, sell market on the Sunday.
Entry is free for children aged under four, $5 for children aged four to 15, and $15 for adults.
Kids with Train and Hobby Show collector card holders also enter free.
The Train and Hobby Show is on at Sandown Racecourse, 591-659 Princes Highway, Springvale.
It closes at 6pm on Saturday, 5pm on Sunday and 4pm on Monday.