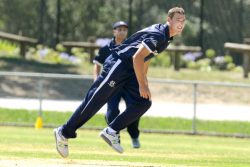 Star News Journalist NICK CREELY has tipped Cranbourne legend Steven Spoljaric to win his fifth Wookey Medal on Wednesday 22 March at the presentation evening.
After winning his maiden Wookey at Parkfield in 2010/11, Spoljaric won a further two at the Bears before winning his first with the Eagles in 2014/15.
The voting procedure is a 3,2,1 at the conclusion of each Turf 1 match, and does not include Twenty20 cricket.
In what was another extraordinary individual season for the Eagles skipper, Spoljaric scored 681 runs at an average of 85.1 as well as taking 25 wickets at an average of 18.4.
Spoljaric received the maximum three votes on four occasions – in Round 3 he scored 153 and took 2/53, in Round 4 he made 158 and took 3/28, in Round 5 he scored 34 and took 5/19 and 3/39, and finally in Round 10 he scored 123 and took 1/57.
On a statistical point-of-view it is perhaps his finest season, topping the runs aggregate while also entrenching himself in the top-five for wickets too. In close second was Mordialloc's Ian Daniel, who enjoyed another stellar all-round season. Scoring 438 runs at a tick under 40, Daniel also took 25 wickets at an incredible average of 12.0.
Tied with Daniel is Berwick fast-bowler Jarrod Armitage. In his first season at the Cave, Armitage exceeded expectations as a batsman, scoring two centuries and 395 runs, but it was with the ball that he shone, taking 27 wickets for the season. Although the Bears eventually missed out on qualifying for the Turf 1 finals, Armitage was a dominant force all season.
Rounding out the top-seeds is Janaka Liyanabadalge, who had an extraordinary season at Narre Warren. In the struggling side, Janaka scored seven half-centuries and 561 runs, and also averaged a wicket per game. Jarrod Goodes from Berwick, who took 27 wickets at 12.4 for the season, as well as chiming in with over 200 runs is in the mix, while regulars in the count Matt Chasemore, Chathura Athukorala and Craig Slocombe were also tied and had stellar seasons.
FULL TOP 20 –
CLUB
VOTES
1
Steven Spoljaric
Cranbourne
17
2
Ian Daniel
Mordialloc
15
3
Jarrod Armitage
Berwick
15
4
Janaka Liyanabadalge
Narre Warren
13
5
Jarrod Goodes
Berwick
12
6
Matt Chasemore
Cranbourne
12
7
Chathura Athukorala
Mordialloc
12
8
Craig Slocombe
Springvale South
12
9
Jordan Hammond
Hallam-KP
11
10
Stuart Squires
Mordialloc
11
11
Christo Otto
Dingley
10
12
Peter Atkinson
Dandenong West
10
13
Michael Davies
HSD
10
14
Ben Hillard
Hallam-KP
10
15
Kaushyla Weeraratne
HSD
10
16
Jurgen Andersen
North Dandenong
10
17
Matthew Hague
Dingley
9
18
Leigh Booth
Hallam-KP
8
19
James Wilcock
Berwick
7