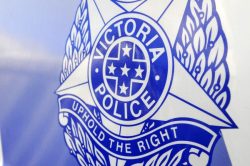 A Dandenong North man was choked and punched outside his own home before thieves stole his mobile phone.
The 24-year-old arrived at his Sherwood Crescent address about 8.30pm on Friday 17 March.
He told police he heard a loud vehicle revving a few doors down and walked outside to see what was happening.
A black Holden ute approached and stopped in front of the victim.
He told police that a passenger got out and pushed him to the ground, onto the nature strip.
The victim said his attacker choked him and demanded his phone, then punched him to the face when he handed it over.
The thief got back into the car and left the scene. The victim suffered minor injuries.
Police said the man was described as Middle-Eastern, about 180 centimetres tall and aged in his early thirties with a solid build.
Call Crime Stoppers on 1800 333 000 with any information.