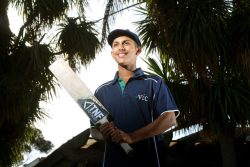 By Nicholas Creely
Yash Pednekar is one of the most talented young cricketers in the country, and will be a name likely to be synonymous with cricket for a long time.
The 15-year-old leg-spinning all-rounder has from a young age been seen as a bright star in a cricket-rich region of the south-east, featuring in several DDCA representative teams.
But just last week, Yash was selected in the Australian under 16s as one of three Victorians who will proudly represent their country on the national stage – an incredible achievement.
The humble star told the Journal that it came down to hard work and a genuine love for the game.
"It does mean a lot – I work very hard and I guess it's paid off, which is great," he said.
"I train very hard and I've done well at the championships, which is pleasing."
It has been a hugely productive few years for Pednekar – playing with his local club North Dandenong he has scored three centuries in the Under 17s as well as making his Turf 1 debut the year prior.
He has been described as a kid with a mindset beyond his years, and supremely dedicated to his own game.
In fact, in his 102 game career at the Maroons to date, he averages an impressive 32.09 with the bat and 20 with the ball, staggering numbers for a kid that is still playing junior cricket.
His exciting talents have brought him into Monash Tigers, the Victorian Premier Cricket club where he is likely to be playing next season, and was not out of his depth in the toughest competition in the state.
"I am looking to play a lot of Premier Cricket this season – it was a great experience this year," he said.
"Just to see how they train is just amazing; I really enjoyed it and can't wait to do it again."
He impressed early in the Premier season with an eye-catching four-wicket-haul, and is expected to be a prodigious talent with ball in hand with further development.
But it was in the SSA 15 and Under National Championships last month that Pednekar brought his name into the national selectors' minds, including that of former legend Greg Chappell.
In the championships in Brisbane, the youngster made 49 and 42, and also snared an impressive 4/28 against Vic Country.
And if he can be as good as his idol, look out!
"I loved watching Sachin Tendulkar – it was just his character and how humble he is – I would love to be a person like him, but also to be able to play like him," he said.
Pednekar will now have to wait until September of this year to play for Australia, where will he form part of the Cricket Australia XI at the Under 17 National Championships in Brisbane, a team coached by former Australian quick Ryan Harris.
And only a few months later, he will be part of an exciting six-match series against Pakistan, with the dates and locations still to be decided.
He is excited and knows it is a great opportunity to show what he is made of.
"I can't wait – following the traditional pathway of so many successful cricketers is great – seeing where I can potentially go is very exciting," he said.