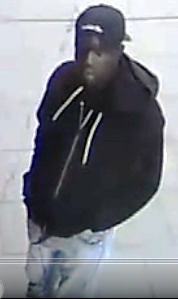 By Casey Neill
Police are renewing calls for information about an alleged sexual assault in Dandenong.
They said the 30-year-old victim shouted at her attacker and chased him down the street following the 23 March incident.
The Journal first reported on it on 4 April following an appeal from Dandenong sex offence and child abuse detectives for public assistance.
On Wednesday 19 April, police repeated that request.
They said the victim was walking on Moysey Lane about 6.50pm when her alleged attacker left two associates, crossed the footpath and approached her.
It is believed he sexually assaulted the woman as he walked past her.
The victim confronted the man and one of his associates, yelling and chasing them down the street.
She then went to Dandenong railway station and reported the matter to PSOs.
The attacker is described as aged in his twenties with broad shoulders, a flat nose, black curly hair, a swollen right eye and of African appearance.
He was wearing a dark cap with light coloured writing or embroidery, a black T-shirt with a round neck, light blue ripped jeans and a black zip-up hoodie.
Detectives have released an image of a man who might be able to assist with their inquiries.
Call Crime Stoppers on 1800 333 000 or submit a confidential crime report at www.crimestoppersvic.com.au with any information.