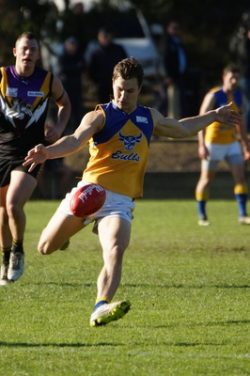 By Nicholas Creely
Eastern Football League (EFL) senior coach Brett Moyle has named his initial 74 player Interleague squad, with a whopping 15 players from both Noble Park and Rowville looking to make the final cut.
In what is going to be a highly anticipated clash with the Essendon District Football League (EDFL) on 13 May at Bayswater Oval, there are a number of star players included in the squad.
Former AFL star and current Bull James Gwilt headlines the act and could potentially be named captain, with his star teammates Kyle Martin, Mitchell Gent, Sam Monaghan, Shayne Allan, Tim Harper and Ziggie Alwan all named in the squad.
Last year's Chandler Medalist Cameron Manuel has been named for the Hawks and looks certain to be one of the major players for the side, with teammates Alex Frawley, Damian Garner, James Wilsen, Lachlan McDonald, Matthew Davey and Matthew Robinson all making the initial squad.
In total, there are 475 games of AFL experience in the squad with Cameron Howat (Vermont), Farren Ray (Balwyn), James Gwilt (Noble Park), John Meesen (Balwyn), Jonathon Simpkin (Balwyn), Kyle Martin (Noble Park), Thomas Roach (Balwyn) and Tom Simpkin (Balwyn) all having previously played at the highest level.
Some other notable names in the squad include Kris Pendelbury, brother of Collingwood captain Scott, Mason Crozier, brother of Fremantle forward Hayden, Ryan Bathie, a former Geelong rookie and Richmond VFL star, and Myles Sewell, who has been one of the great North Ballarat VFL players of all time.
Last year, the EFL travelled to Simonds Stadium to tackle the Geelong Football League, but went down by 24-points in a spirited display.
The Under-19s squad will be named in the coming weeks, with a number of Noble Park and Rowville youngsters set to get a crack.
The Southern Football League is also expected to announce its initial squad shortly.