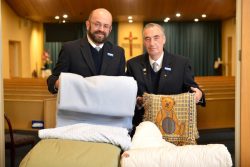 A Dandenong business is collecting blankets to help homeless people keep warm this winter.
Le Pine Funerals is calling on the community to show its support for those who are sleeping rough by donating their spare blankets.
Le Pine has partnered with Anglicare Victoria to run the appeal until the end of June.
Mark Osborne from Le Pine said Australians donated more than 2700 blankets last year.
"This year we're hoping to spread the love and increase the number of blankets donated," he said.
According to Homelessness Australia, one in 200 Australians sleep rough each night and last year there were more than 105,000 homeless people in Australia.
Nearly 20,000 were children aged under 10.
Le Pine Funerals Dandenong is at 137 Princes Highway, Dandenong.