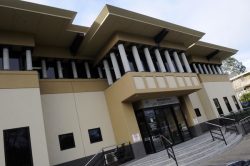 By Cam Lucadou-Wells
A man who said he was a victim of a notorious Christian Brothers paedophile has pleaded guilty to possessing nearly 60,000 images and videos of child pornography.
Stephen Bradley, 46, was turned into police by his Keysborough partner in June after she discovered some of the images on his phone.
He had stored the material, which including sadistic images of bound and blindfolded boys being forced into sex with men and other boys, over five years, Dandenong Magistrates' Court heard on 15 May.
He was jailed for 12 months, with a 24-month community corrections order.
Police found the accused's vast collection in folders and several electronic devices as well as a small amount of cannabis on the kitchen bench during a raid of Bradley's Preston home.
Defence lawyer John Buxton said Bradley, who had no like priors, had been abused as a 15-year-old at Cathedral College by convicted paedophile Brother Edward Dowlan.
Bradley didn't make a statement against Dowlan, who was jailed for up to six years by the Victorian County Court in 2015 for abusing 20 boys at several Victorian schools in the 1970s and 1980s.
Dowlan had also been jailed in 1996 for six-and-a-half years for the abuse of 11 boys.
"My client didn't participate in proceedings (against Dowlan) because he found it all a bit confronting," Mr Buxton said.
"He has suffered somewhat as a consequence of the child abuse and has never sought any assistance.
"He's had some difficulty with relationships as a consequence."
Bradley's offending had been triggered by the second investigation of Dowlan, Mr Buxton said. Bradley knew several of the victims in the trial.
Magistrate Barry Schultz said Bradley's victimhood was a "two-edged sword".
"He'd know from his own experience the damage that is done in the acts that those images depict."
The accused was part of a "ready market" that supported children in being abused that way, Mr Schultz said.
Bradley had recently left his 20-year job in sales account management due to the stress of the upcoming hearing, the court heard.
Bradley's "strong, healthy" relationship with his partner had also ended, Mr Buxton said.
The accused's rehabilitative prospects were said to be strong. He had a desire to work, expressed remorse and shame and had admitted his offenses to family and friends, Mr Buxton said.
"He's got a strong desire not to put himself in this position again."
In sentencing, Mr Schultz told the accused that "I'm sure this has been a very upsetting, shameful experience for you".
He said the quantity of material was "so far outside the range", there was no choice but to jail Bradley.
It had been the largest such collection he'd seen in the magistrates' jurisdiction, he said.
"I'm familiar with those quantities at the County Court."
Bradley's two-year corrections order – following his jail term – will include treatment under the sex offenders program.
He will be required to report as a sexual offender for the next 15 years, and to provide a DNA sample to police.
Mr Schultz said Bradley would have been jailed for two years – with an 18-month non-parole period – if he hadn't pleaded guilty.