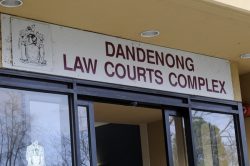 By Cam Lucadou-Wells
A man awoke on a late-night train to find himself being groped down his underpants by a stranger, Dandenong Magistrates' Court heard.
Kinh Bao, 32, of Noble Park, pleaded guilty to sexually assaulting the man aboard the Pakenham-bound train after 3am on 21 May 2016.
That morning, the 32-year-old victim had passed out in his seat due to exhaustion and several drinks.
Bao boarded the train at Springvale station. He sat down opposite the sleeping man and assaulted him until the man awoke.
According to a police summary, Bao kept staring and smiling at the victim, who exited the train at Hallam station.
"He said sorry or OK, but I couldn't really understand as he had an Asian accent," the victim told police.
Defence lawyer Emma Strugnell said Bao's mental health would "considerably deteriorate" if he was jailed.
"He told me he has deteriorated significantly since he was last in court.
"The same (sentencing) objective could be achieved by a corrections order."
Magistrate Barry Schultz said Bao's "opportunistic and predatory" offending preyed on a vulnerable victim.
"My concern is he may have been intoxicated on the occasion, as was apparently the victim."
It was "bizarre" that Bao remained on the train for more than five hours after the incident, Mr Schultz said.
Bao had been rated by Corrections Victoria as a high-to-moderate chance of non-violent reoffending, and found unsuitable for a corrections order.
Mr Schultz noted it was Bao's first sexual offence and that such offenders with no prior history often appeared in court.
"If this offence was committed on a woman there would have been no doubt you would be sentenced to a term of imprisonment.
"The courts must be even-handed and I regard this offending as just as serious, even though it was upon a male."
Bao was jailed for two months, followed by a 24-month supervised corrections order with drug, alcohol and mental health treatment.
He must report under the sexual offenders' register for eight years, and submit a DNA sample.
Bao appealed against the sentence and the matter will be heard at the Victorian County Court at a later date.