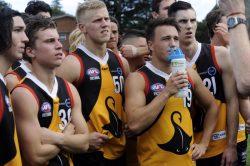 By Nick Creely
Riley D'Arcy is a powerful, imposing forward cut from the same cloth as St Kilda sharpshooter Tim Membrey.
The 17-year-old, who plays his footy with the Rowville Hawks and the Dandenong Stingrays in the TAC Cup, shares some startling similarities with the dangerous marking forward, who averages almost two goals per games across his 38-game AFL career to date.
They both stand just a tick under 190cm, and despite not being conventional power forwards, have a natural knack of kicking bags of goals and taking commanding contested marks with their bulky frame.
"I'm that medium type forward, quite Tim Membrey like and will play key if they need me to be, but usually I'm encouraged to go up the ground and play across half-forward," he said.
"My contested marking in all areas of the ground is my greatest strength – I'm playing that centre half forward role and deep if needed – I wouldn't mind playing a bit of midfield, that'd be good, too."
In six games of the TAC Cup this season, D'Arcy has kicked 12 goals – including a five-goal-haul against Calder Cannons, a performance that included three contested marks and 15 disposals.
He first caught the eye in 2017 when playing the Vic Country trials in April – where he is part of the initial squad – with a brilliant performance in the second Vic Metro v Vic Country match.
D'Arcy collected 19 disposals, six marks (two contested), three inside 50s, four goals and a score assist, forcing the recruiters watching to reshuffle their boards and find out more.
But right when the momentum was all steaming his way, he was struck down by an unfortunate case of appendicitis, where he is set to still be on the sidelines for some time still.
"I had my appendix out last Tuesday night – it's been a bit sore – it'll probably be about another three weeks out at this stage," he said.
Although D'Arcy is now shining up forward, he was initially knocked back from the Stingrays, forcing him to work harder and even change local clubs.
"I didn't play Under 16s at the Stingrays in 2015 – I didn't get the invite down – I didn't think I'd make it, but kept working and, yeah, got there in the end when I received a letter as a bottom-age player," he said.
"I played most of my junior footy at Narre Warren, and then made the move to Rowville in Under 15s – it's a great club and part of the reason why I'm even at the Stingrays now."
Outside of football, D'Arcy is a student – currently in Year 11 and looking to get into the trade industry down the track.
"I'm doing VCAL at Rowville Secondary College, and then on Wednesday's at TAFE doing carpentry, which is great for me," he said.
But his definitive dream and one that consumes him is to have his name read out in November's AFL Draft, but he won't let the pressures that sometimes come with the year faze him.
"Well, the obvious goal is to get drafted, but if that doesn't happen then, hopefully, I will get the chance to get a VFL pre-season and start my journey – I don't really feel the pressure to be honest; I just take everything as it goes," he said.
"I'm just hoping to make the final squad (Vic Country), but I'm not too fussed if I don't, it's not the end of the world – I'm still at the Stingrays and if I keep playing good games the rest will take care of itself.
As for his teammates at the Stingrays, he said the trio of Oscar Clavarino, Luke Davies-Uniacke and Hunter Clark are all massive chances of going fairly high in the draft.
"It's pretty exciting to see those three do what they do (on field) – I'm great mates with all of them and, hopefully, they all get picked up, but they are just great guys and footballers" he said.