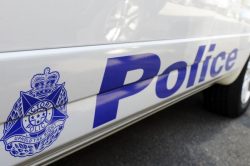 Police arrested a Noble Park teen and a man from Hallam over assaults and thefts in Frankston.
Investigators were told that a man was sitting at Frankston railway station with a woman about 5.45pm on Saturday 17 June when a teen allegedly struck him.
The teen and his friend ran from the scene, police allege, and were involved in the theft of a mobile phone and further assaults near Young Street.
The pair then fled the area.
Police arrived a short time later and arrested a 17-year-old boy from Noble Park and a 20-year-old man from Hallam.
They interviewed both in relation to the incidents.
The teen was charged and bailed to appear at a children's court at a later date on assault and theft charges.
The Hallam man was expected to be charged on summons for similar offences.
Investigators urged anyone with further information about the incidents to call Crime Stoppers on 1800 333 000 or visit www.crimestoppers.com.au.