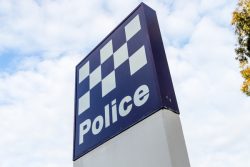 By Casey Neill
"It scared the living daylights out of me," says eyewitness
A Dandenong North man was just meters away as a bank bandit produced a note telling staff that he had a weapon and wanted cash.
"It scared the living daylights out of me," Peter said.
The incident happened at the Commonwealth Bank on McCrae and Walker streets about 2.30pm on Thursday 13 July and as the Journal went to print on Friday, police were still investigating and searching for the man responsible.
Peter, who did not want his surname published, told the Journal he was "standing five feet from the guy" when the incident happened, in the bank doing some business for his children.
"All of a sudden there was an almighty crash and bang and the security screen came down," he said.
"The bank went into lockdown straight away.
"I couldn't get out and people couldn't get in.
"Then a squad of police arrived, probably about 20 of them, including an elite squad from the city that happened to be working in Noble Park.
"I was a bit weak in the knees when I left."
That was about 4.15pm, after providing statements to police.
The bank was unusually quiet when Peter entered.
"There were only about three people in the queue and they only had two tellers working," he said.
"About a minute or two later another guy came in and stood behind me.
"I didn't take much notice of him.
"He had a bit of a coughing attack and he moved to the side.
"I thought 'I hope he didn't cough all his germs on me'.
"He came back into the queue and that was fine."
They were both being served when Peter heard the teller say something to the man about ID.
"The next thing, crash, bang, down came the security thing," he said.
"He sprinted past. By Jove, he went like the wind.
"He went past me, didn't touch me, but he just went very close to me and took off out the front door before they actually locked it down.
"So much for doing a small banking errand during the day."
Call Crime Stoppers on 1800 333 000 with any information.