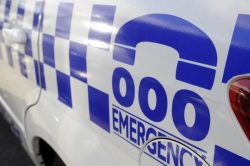 Bandits tasered a Dandenong North man in his own driveway during a bungled robbery.
The victim was working on his Ford Ranger utility at his Deakin Crescent home about 8pm on Monday 10 July.
Two men approached him, produced a taser and made a demand for his car keys.
One of the men, described as African in appearance, got into the driver's seat.
The victim tried to get him out of the car and the second man, described as Caucasian, Tasered him.
Unable to start the car, the would-be thieves entered a scuffle with the victim before fleeing on foot empty-handed.
The victim, 34, received grazing to his knee.
The Caucasian man was aged 17 to 19 years and 167 centimetres tall with a medium build. He was wearing a black cap and a black hooded jumper.
The man of African appearance was 180cm tall with a thin build, was also aged 17 to 19 and was wearing a white hooded jumper with black dots.
Call Crime Stoppers on 1800 333 000 with any information.