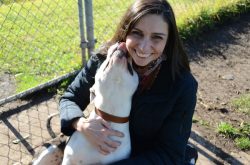 By Casey Neill
Keysborough's animal shelter is moving out of Homeleigh Road – and a school is moving in.
The Australian Animal Protection Society (AAPS) sold its site to the Department of Education and Training on 1 July.
It's a moment the Keysborough South community has been waiting years for.
The State Government allocated funding to acquire a site for a school in the 2016-17 budget, but this May there was no cash in the 2017-18 budget to build it.
Keysborough MP Martin Pakula said at the time that "negotiations for the purchase of land are taking longer than expected".
Keysborough South Action Group spokeswoman Nina Kelly said the group was pleased that after nearly three years of campaigning a site had been purchased for the new primary school.
"This is only the first step and the State Government has yet to confirm an opening date for the primary school," she said.
"The campaign will continue as the community keeps growing. We are also in desperate need for an additional secondary school for the wider Keysborough area."
AAPS manager Natasha Marginis said the shelter had bought land on nearby Perry Road that's currently home to "two old houses and a lot of weeds".
It will clear the site and build a state-of-the-art centre with providing the best care for animals at its heart.
Ms Marginis hopes it will be up and running by July next year.
"It's daunting, but being able to build a facility that supports our community and the animals that come into our care can't be anything but exciting," she said.
The shelter has been in Homeleigh Road for about 30 years and a move has been in the works for the past two.
"We saw the residential areas coming up," Ms Marginis said.
"You can definitely feel it now."
The shelter houses about 50 dogs and 200 cats.
"We're looking to at least double the number that we're able to accommodate now," Ms Marginis said.
"From there, the most important thing is to be able to give all the animals in our care the best chance for a great new life."
The shelter rehomed about 1750 animals last year.
Ms Marginis said many were surrendered by owners who were moving into rental properties where pets weren't allowed.
Other animals arrived because their owners "don't feel they have the time for their animals anymore and they'd be better off in a new home than with them" or following relationship breakdowns.
"We accept every type of animal," she said.
"It's not uncommon to meet people who've driven from the New South Wales border.
"They want what's best for their animal.
"We're known for not turning away animals in need."
The Department of Education and Training did not respond before deadline.