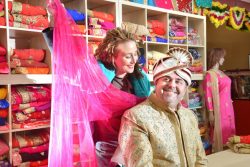 By Casey Neill
Community members can shape Dandenong's Indian Cultural Precinct transformation.
Greater Dandenong Council is encouraging input on what the precinct should look like, what events it should host and what facilities should be included.
It's also asking for short-term ideas that have high visual impact.
The State Government announced last year that Dandenong's Little India would become the state's official Indian Cultural Precinct and contributed $500,000 to the project.
The council established an Indian Cultural Precinct Taskforce to create a vision for it.
Meanwhile, Greater Dandenong is looking to India for business opportunities.
The Journal reported on 19 June that The Consul General of India wrote to the council with a request to make a presentation to members of the municipality's business sector.
Greater Dandenong business group manager Paul Kearsley and other council representatives met with the Manika Jain and briefed her on the Taskforce deliberations.
"We agreed that we would do some work to identify the particular sectors that would have the most relevance back in India," he said.
"We also offered the Consul General's office to meet with and come and brief the taskforce in the coming months."
Mr Kearsley said the office could help the council and local businesses to make the right connections in India.
"India's economy, I think they're saying could be bigger than China's in 20 or 30 years," he said.
"I think it's again another untapped opportunity that we haven't had a lot of focus on."
Visit oursay.org/greaterdandenong/dandenongs-indian-cultural-precinct by 30 July to submit ideas for Little India.