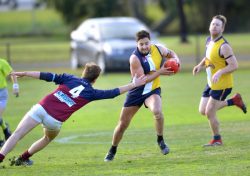 By Nick Creely
JOURNAL FOOTBALL REVIEW
EASTERN FOOTBALL LEAGUE
REVIEW – ROUND 15
Noble Park's season is now hanging in the balance after yet another agonising defeat on Saturday to Doncaster, 6.8(44) to 7.6(48).
Mick Fogarty's men – who started the season like a house on fire – now remain in fifth position, only on percentage, with three matches to go, and have lost their past two outings.
Against the wind in the first quarter the Bulls managed to quell the Sharks to an extent, holding them to just three goals, although they failed to kick a goal themselves.
Finding a bit more spark in the second quarter, superstar Sam Monaghan (two goals) helped claw the hosts back into the game somewhat, but still faced a 12-point deficit into half time.
But another goalless quarter meant the Bulls would have to scramble to win in the last, with the Sharks opening up a game high 23-point margin with a quarter left to play.
And despite roaring home with a four-goal to one last quarter, the Bulls fell short of the fourth placed Sharks, leaving the door ajar for a late season swoop by either Blackburn or Norwood.
The Bulls need to respond when they travel to face third placed Balwyn on Saturday.
SOUTHERN FOOTBALL LEAGUE
DIVISION 2 – ROUND 17
A rarely troubled Keysborough helped themselves to a workmanlike 15-point victory over Springvale Districts, 9.11(65) to 7.8(50).
The third placed Burras, off the back of another Tim Werner (two goals) special, led at every change despite a plucky Demons' lineup refusing to go away.
Perennial goal kicker Stefan Feehan (four goals) was outstanding for the visitors, and took his tally up to 34 for the season.
The finals bound Burras travel to play Hampton at Peterson Street on Saturday, while Springvale Districts will play Caulfield at Koornang.
DIVISION 3 – ROUND 16
Flicking the switch in a dominant six-goal third quarter, the Doveton Eagles smashed Carrum-Patterson Lakes by 38 points at Power Reserve on Saturday.
After leading by 21 points in an inaccurate first half, the Eagles found another gear in the third kicking 6.2 to just 1.0 to run away with the contest in stunning fashion, 15.13(103) to 9.11(65).
Corrie Wilson racked yet another best-afield performance for the Eagles, while Enyate Samadi (three goals) was equally impressive.
Meanwhile, Endeavour Hills paid for its horrible inaccuracy, losing to Black Rock by 10-points at McDonald Reserve, 8.13(61) to 5.21(51).
Kicking 1.6 in the first quarter, the Eagles were woeful in front of goal, kicking 4.15 in the remaining three quarters.
In other matches, Sandown 1.3(9) were never going to threaten Hallam 28.12(180), Dandenong 9.11(65) were outplayed by Lyndale 23.13(151), Lyndhurst 11.9(75) scored an away win over Moorabbin 7.6(48) and Ashwood 14.14(98) defeated South Yarra 6.10(46).
With just two rounds left to play the current top five is: Hallam, Ashwood, Doveton Eagles, Endeavour Hills and Black Rock