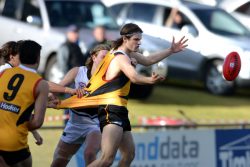 By Nick Creely
TAC CUP
REVIEW – ROUND 15
Back at their Shepley Oval fortress, the Dandenong Stingrays expectedly dispatched the bottom placed Bendigo Pioneers by a whopping 89-points on a windy Saturday afternoon.
After last week's gut-wrenching two-point loss to Gippsland Power, the 'Rays – desperate to get their top four hopes back on track – where in no mood to muck around right from the start.
With a six-goal breeze favouring the 'Rays in the opening term, the home side were on the board almost instantly through big man Bailey Williams.
Quick goals to Finlay Bayne, Jamie Plumridge and Jai Nanscawen, who kicked a ripper out of a forward 50 stoppage, suddenly saw the home side lead 30 to 0 after just 10 minutes of play.
They didn't stop there, with the 'Rays banging on another four goals and three behinds in the final twenty minutes to almost ice the game at quarter time – 51-points ahead of a clearly dejected Pioneers outfit.
The 'Rays – off the back of their usual suspects in midfield jet Hunter Clark, Riley D'Arcy (four goals), Nanscawen (two goals) and skipper Josh Bateman – added further pain, slamming on another 10 goals in the next two quarters to take an ominous 81-point lead into the final change.
After a goal early in the final term to young forward Bayne, the feeling was well and truly out of the game, with the 'Rays significantly taking the foot off the pedal.
Stingrays coach Craig Black was thrilled that his side not only responded to last week's tough loss, but played a finals brand of football.
"It was pleasing – the way we went about winning it after a disappointing result the week before was good, we had a great intent to compete hard," he said.
"We had 16 shots in the first quarter, and kicked seven goals – it would have been great to maybe convert a few more but we were really pleased to start well, but our work ethic, ability to run and carry the ball in the second quarter really set up the win."
Black was full of praise for two of his elite players, with Hunter Clark (32 disposals, two goals) and Riley D'Arcy (four goals) putting the Pioneers to the sword, but acknowledged the presence of his younger kids in generating some energy.
"Hunter has been outstanding – we changed his role up and is relishing the midfield, getting his hands on the footy and kicking goals too – Riley D'Arcy kicked four and had about five scoring assists, and our 17-year-olds were great, like Fin Bayne, Jamie Plumridge and Jai Nanscawen," he said.
"He (D'Arcy) worked up the ground a lot more and got more possessions between the arc which was really pleasing for Riley, and hopefully something he can do more of going forward – we've been really working on his effort around the contest, and we're really happy with that, he had a great game."
Despite banging down the door in fifth-spot with a 10-5 record, Black believes there is more improvement to come before finals.
"The weekend was a great result but as a program and knowing our boys, we don't accept that's the best we can play – we know that whether we play well or play poorly, we will get to training on Tuesday night looking to improve," he said.
"I think we can tighten up and improve in a few areas, and we're hoping to play some good and exciting football."
DANDENONG STINGRAYS            7.9          11.11     17.14     20.18(138)
BENDIGO PIONEERS       0.0          3.3          5.5          7.7(49)
DANDENONG STINGRAYS
GOALS: R. D"Arcy 4, F. Bayne 3, J. Nanscawen 2, F. Mitropoulos 2, H. Clark 2, J. Plumridge 2, T. Murphy 2, B. Williams, M. Cotter, J. Barker
BEST: H. Clark, R. D"Arcy, J. Taylor, R. Bowman, B. Williams, J. Bateman
BENDIGO PIONEERS
GOALS: B. Kemp, A. Schumacher, L. Fitzgerald, J. Schischka, A. Byrne, L. Davis, K. Farrell
BEST: M. Kemp, A. Schumacher, D. Henderson, R. Mutch, B. Kemp, K. Farrell