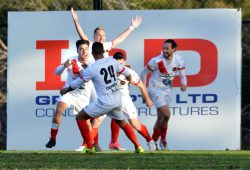 By Nick Creely
NPL
REVIEW – ROUND 26
Before even playing their Saturday afternoon game, the Dandenong Thunder officially became NPL2 champions of 2017.
The men from George Andrews went into full party mode, with the confirmation they would return to the top tier of NPL football in 2018.
In an interview with NPL2 News on Friday, only hours before the Thunder got the greatest news they could have hoped for, star striker Brandon Barnes described just what it'd mean to the club when, not if, it gets promoted.
"Promotion was the club's target at the start of the season and it has been my target to get Thunder promoted ever since I arrived in Australia," he said.
"So if we do get promoted it would be very satisfying, but also a huge relief after coming so close last year. "
And the Thunder's promotion was confirmed after Dandenong City's disappointing 0-2 loss to Werribee City at home on Friday night.
With only a win keeping them within touching distance of their crosstown rivals, the City couldn't handle the heat, with Werribee scoring two goals within moments of each other to seal the deal and resign Dandenong to a season that could only be perceived as a lost opportunity.
Although Dandenong did battle hard in the second half, the damage was already done and its title hopes diminished.
Dandenong City will once again host a Friday night clash in Round 27, this time against the last placed Eastern Lions as they seek to finish off the season on a high.
Although it's been a week of celebration for Thunder, they weren't quite on the boil in their clash against Sunshine George Cross, losing 0-1 on Saturday afternoon.
In an essential dead rubber match, the Thunder – perhaps not quite as motivated as they would be had the game had any bearing on the season – didn't find their trademark mojo as the Georgie managed to kick a goal and give the fans a genuine scalp.
The Thunder will most likely use the rest of the season to explore their squad and give fringe players a chance, but will want to keep up their winning ways.
They are once again on the road next round when they travel to Bundoora to face off with Melbourne City on Saturday afternoon.
Meanwhile, Springvale White Eagles lost 3-2 to Whittlesea Ranges in a high scoring Saturday afternoon affair.
Both sides have had positive moments in 2017, as Saturday's match was an attacking masterclass for both sides who would be looking for bigger and better things in 2018.
The Eagles will host Murray United on Saturday afternoon at White Eagles Stadium, with a perfect chance for them to score a late season win.