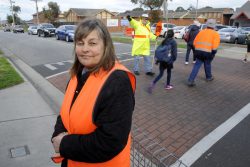 By Casey Neill
School fears a fatal accident unless traffic is slowed…
A child could die outside Athol Road Primary School without a change in driver behaviour, a crossing guard fears.
At its Monday 14 August meeting, Greater Dandenong Council tabled a petition signed by 254 people requesting flashing lights at the crossing outside the Springvale South school's gates to enhance its visibility to motorists.
"Just to alert cars to slow down," acting principal Carmel Nigro said.
"It's a lot more prominent.
"It makes drivers a little bit more aware.
"I'm sure there are other solutions."
Ms Nigro said the school council raised the issue and spearheaded the petition.
"Before school and after school times it gets really busy out there," she said.
"Then you've got the shopping centre as well across the road.
"The school crossing man almost every day is saying to us that there's going to be an accident.
"He's so anxious.
"He says something fatal is about to happen."
Ms Nigro said it wasn't only the crossing guard who was feeling anxious about the safety of children.
"There's driveway points everywhere," she said.
"There's all these cars going in and out, reversing."
She said it wasn't only parents who signed the petition.
"There were community members who live in the street that have also raised concerns, and shop owners as well," she said.
"Springvale Road is so close to our school.
"Drivers, as soon as they turn in they've got to come to a halt.
"Many aren't expecting it. The crossing is right there.
"We've had some near-misses.
"Just yesterday I had the school crossing man, he came to see me after school and he said 'it's like a nightmare out there, I'm waiting for one of these kids to be hit'.
"I've got staff who go out there after school as well to monitor and watch."
Teachers also put an emphasis on road safety in the classroom and urge students to be vigilant.
"We tell them to wait for drivers to stop before you walk, don't just trust that they're going to stop," Ms Nigro said.
She said some drivers could do with a road safety refresh, too, but hoped the lights would make them more aware.
"It's not going to solve all the problems out there but it's certainly going to help," she said.
Greater Dandenong Council engineering services director Julie Reid said the council was investigating the matter and would get back to the petitioner.