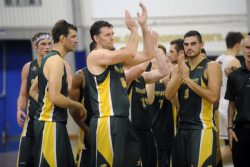 By Nick Creely
SEABL REVIEW
PRELIMINARY FINAL
Dandenong's SEABL Men's side is through to the Southern Conference Final next week after overcoming the Hobart Chargers on Friday night in Tasmania.
In a high quality contest, the Rangers pulled away in a powerful late burst to win 98-105 to book their spot in the upcoming championship decider.
The hot shooting Rangers finished third on the home-and-away table with a 16-8 record but have saved their best basketball for the finals series, lifting in intensity when their season was on the line.
The game was tight and hot in the first half, with the Rangers holding a slender four-point lead and looking slick around the court – particularly at the three-point line, with the visitors perimeter shooters finding their range at crucial and key stages of the match.
And urged along by inspired performances from Lucas Barker (19 points, four boards and three assists), Garrett Jackson (19 points, six boards) and Tim Lang (19 points), the Rangers silenced the home crowd by outscoring the Chargers by four-points in the third term, before holding firm and pushing home late to seal the comfortable win.
Dandenong coach Darren Perry was full of praise for his side's shooting all night, and said the defense improved considerably after a nervous and shaky start.
"Sometimes you can't anticipate how well you shoot but credit to the guys for making shots when they needed to," he said post-match.
"At the start we weren't guarding the ball and the basket and my message to them was that we weren't going to do anything tonight if we let the ball handler in to do lay-ups, and we started to defend the ball better.
"I thought it was a good game all night, and at times it looked like we were going to get a little break but they just kept coming back – they're a great team, and it just shows how little there is between all of us."
With Barker and a host of developing players impressing throughout the night, Perry was certainly pleased with their consistent efforts.
"They work hard every week and sometimes they get more court time and sometimes they get less, but they absolutely stuck to what we wanted to do," he said.
The Rangers have the chance to win the South Conference when they travel to the Mars Minderdome to face a red-hot Ballarat Miners side who defeated the Chargers to earn their place the week before.
"They (Ballarat) have a lot of good players and we have to do our homework and have a clear plan – hopefully that plan gets us home next week," Perry said.
The match will begin at 7.30pm on Saturday night, with a capacity crowd expected to make life difficult for the travelling Rangers.
The news wasn't so good for the Rangers' Women's side, who went down 78-83 to Launceston in the South Conference preliminary final.