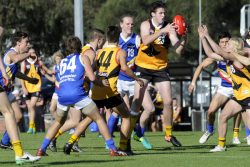 By Nick Creely
Solid, rather than spectacular, is really the only way to describe the Dandenong Stingrays' comfortable 47-point win over the GWV Rebels on Sunday afternoon at Ballarat.
The win – which is the 'Rays eighth of the last nine matches – came off the back of a six goal to one last half as the class of their prime ball movers took the gallant Rebels apart.
With Haileybury premiership stars Luke Davies-Uniacke, Oscar Clavarino and Aiden Bonar back in and ready to fire, the Stingrays led by 12-points at quarter time and 20 at half time as the Rebels provided a challenge.
It was a challenge that Stingrays coach Craig Black expected, but one that left him satisfied with the response.
"The focus was really on the mindset and travelling to Ballarat for a 3.30pm Sunday game, just trying to make sure they keep going and prepare well was important," he said.
"They really challenged us in the first half of the game, and their intent around the footy at the start was probably a bit better than ours.
"Credit to our guys, they stuck to the challenge and wore their way through it – it was more like a workmanlike performance and it's rewarding to come away with a big win and still have plenty of improving to do."
Hunter Clark played yet another dominant game through the midfield, Jesse Davies was a rock down back, Mason De Wit provided the run off-half back, and Davies-Uniacke provided the layer of class in another strong team performance.
With his side settled into finals, the 'Rays are still searching for the perfect cohesion as their schoolboy stars re-enter the side before finals.
"I think we have a bit of improvement – it was only the first game with everyone back and normally it takes a few games – for example, Luke Davies and Hunter Clark only played their second game together for the Stingrays, and they need to work out rotations and stuff like that," he said.
"I think we just need to keep improving and we'll see more of an output from those guys in the coming weeks."
The 'Rays travel to Trevor Barker Beach Oval on Saturday morning to face the Sandringham Dragons, as they eye off their twelfth win of the season.
GWV REBELS 2.2 4.4 4.10 5.14(44)
DANDENONG STINGRAYS 4.2 7.6 11.10 13.13(91)
GWV REBELS
GOALS: A. Shepherd 2, L. Dawson, D. Cox, M. Schnerrin.
BEST: F. Appleby, J. Johnston, C. Wellings, A. Domic, L. Meek, A. Shepherd.
DANDENONG STINGRAYS
GOALS: L. Young 3, A. Bonar 2, J. Nanscawen 2, B. Williams 2, B. Morrish, M. DeWit, L. Davies-Uniacke, H. Clark.
BEST: J.Davies, M. DeWit, A. Paterson, H. Clark, A. Bonar, L. Young.