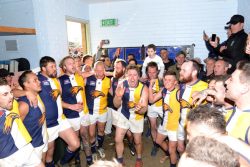 By Nick Creely
JOURNAL FOOTBALL REVIEW
SOUTHERN FOOTBALL LEAGUE
DIVISION 2 – SECOND SEMI FINAL
Despite falling to the all-conquering Chelsea Heights on Saturday by 22-points, there is a strong possibility that Keysborough will get another crack at the Demons in just two weeks' time.
In the 12.8(80) to 8.10(58) loss, the Burras just couldn't quite match the forward power of the Demons, but were far from disgraced as they take key learnings on how to beat a side that has had their measure in all three of their matches this season.
After a dead even first quarter, with both sides shaky in front of goal, the Dees got the match-winning break in the second quarter when Jessie Odell, Philip Smith and James Robertson kicked majors to bring the margin out to 18-points.
It proved to be a bridge too far for the Burra, despite fighting back admirably in the second half but every time they threatened, the Dees always had the answers.
Cory Hargreaves (four goals) was a shining light in a tough loss, Chris Bryan roamed the ground and managed to kick two goals, while Riet Pal threatened the game with many great moments.
The Burras get another chance to qualify for the grand final this week with a preliminary final showdown against Murrumbeena.
DIVISION 3 – PRELIMINARY FINAL
The Doveton Eagles have booked themselves a date with Endeavour Hills in this week's grand final after a barnstorming victory over minor premiers Hallam on Saturday, 7.13(55) to 11.5(71).
Surprisingly, the Hawks – who finished two games clear at the top-of-the-ladder – have now been knocked out in straight sets.
In a game of high intensity and predictable low scoring, the Eagles simply took their chances in front of goals.
After an even first quarter, the Hawks broke clear to take a two-goal lead at half time, before a seven goal to two second half saw the Eagles extend their season into the last weekend.
With goals scarce and hard to come by, four goals to Adam Read proved crucial in the end, while the brilliance of Corrie Wilson in clutch moments continued, with the veteran midfielder providing the class throughout the match.
Justin Marriott and Rob Mackay were strong contributors for the Hawks in a tough day at the office for a club that has done so much right in 2017.
The Division 3 grand final between the Falcons and Eagles will be played at Jack Barker Oval in Cheltenham on Saturday.