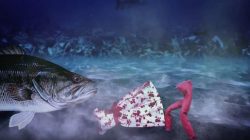 A Springvale woman's award-winning enviro-video starts with a young woman carelessly throwing a garbage bag into the gutter.
Jeannie Psomoulis showed the contents of the bag falling into the storm water system, travelling to the ocean and winding up inside a fish on the litterbug's dinner plate.
The short film won Greater Dandenong Council's Healthy Waterways Video Competition.
The initiative formed part of the Melbourne Water-funded Living Rivers project.
It invited community members aged five to 25 years old to create a short video to promote the different ways the community could help to keep waterways clean, healthy and litter free.
The top 10 videos screened on the Harmony Square big screen in Dandenong on Friday 25 August.
Pantalones won Ms Psomoulis a $1000 prize.
Two students from Wooranna Park Primary School in Dandenong North won the People's Choice Award and a $250 prize.
Grade 2 students Bethany Pik and Luka Stakic produced a video called Protecting Our Dandenong Waterways, which followed a group of young students as they tried to improve the health of waterways and the environment.
The Healthy Waterways Video Competition will return next year.
Entries open on Monday 2 October and close at 4pm on 25 January next year.
Visit www.greaterdandenong.com/healthywaterwayvideocomp for more information.
Watch the winning video.