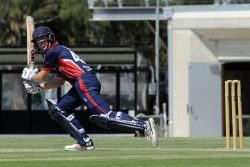 By Nick Creely

Despite cruising to a comfortable seven-wicket victory over Frankston Peninsula to begin it's 2017/18 Victorian Premier Cricket campaign on Saturday, Dandenong captain Tom Donnell is the first to admit he wasn't sure whether his new look side would gel immediately.
Chasing 149, the Panthers got the job done in 39.3 overs and with seven wickets in hand, with Brett Forsyth (52), Ed Newman (49 not out) and Donnell (36) all playing crucial cameos – but the skipper said it was genuinely a different feeling.
"Coming into the new season, there is a little bit of the unknown with a different looking team in and how'd they go, and you sort of forget about your last game because everything is really new," he said.
"I don't think it (the win) was as comfortable as it looked – we had a plan to win the toss and bowl first and use the conditions and that worked out really well."
After sending the Heat in to face the music, only Liam Tonkin (56) looked comfortable against a strong bowling contingent of Adam McMaster (2/31), Darren Pattinson (1/22), James Nanopoulos (1/33) and new recruits Jak Jowett (3/29) and spinner Akshat Buch (2/28), rolling the hosts for 148 off 47.4 overs.
"We weren't sure how we'd go with a few new faces in Darren Pattinson, Jak Jowett and Buchy (Akshat Buch) coming in, but we put in a good all-round performance," he said.
"They (Buch and Jowett) were really good – Jak with the new ball was really good, he can bowl anywhere through the innings which is great, and he took a few big wickets that kind of swung the momentum back our way.
"Buchy was also really good – at the start of the season we weren't really sure what we were going to get, and he's probably surprised us with how good he is, he's going to be very important for us throughout the whole season."
Donnell was also full of praise for young star Ed Newman, who also participated in the AFL Draft Combine and has been part of the Cricket Victoria Under-19 side.
"He's happy to play cricket until the draft and see where that takes him – we've heard a few words that'll he get picked up and a few clubs are certainly looking at him, so we are encouraging him to do that," he said.
"On the other hand it'd make a massive hole in that number three position, and he's getting better with every game he plays – he's just a really good young kid."
In the Second XI, the Panthers chased down 214 with ease, with Josh Slater (96 not out) and Comrey Edgeworth (87 not out) putting Frankston to the sword, and Donnell says he likes what he sees at the lower grades from both the batsman and bowlers.
"The three or four quicks in the twos will all play ones this season no doubt – even the batsman, they're up to the level, but it's probably up to them to keep putting their best foot forward," he said.
"It's a pretty good position to be in."
The Panthers will face Carlton on Saturday in their first home game at Shepley Oval for the season as they look to move to 2-0.