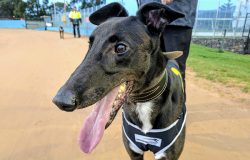 Promising pup Hasten Slowly has announced himself on the big stage with a dominant 6 1/2 length win in Thursday night's Vale Ken Virtue Maiden final.
His win backed up an impressive race track debut in Sunday's heat as he pounced to the lead early and quickly made the race his own.
His time of 29.57 was the fastest of the 12 races on the night. His trainer Angela Langton was full of praise following 'Ollie's' win.
"I couldn't ask for more from him, he's been super in his two starts. His heat run was the first time he'd been over 515 metres.
"He's trialled fast and has been schooled around here – we knew pretty early on that he's got a fair bit of ability," said Langton.
The win meant a lot to Langton given the recent death of Hasten Slowly's mother, Heidi Go Seek, who was a special part of the kennel.
"Unfortunately she passed away after having a litter of pups. We believe she had a heart attack. It was pretty sad as she was special to us. Hopefully Ollie and his litter mates go on to do her proud."
Langton's confidence in Hasten Slowly was no secret having considered him to compete in last month's Speed Star match racing series.
She believes he has all the qualities to transition into top grade racing.
"You always think how much can they improve, tonight was his second run over 515 metres so, hopefully, there is room for improvement.
"When he comes out running as good as he has he's always going to put himself in any race."
Hasten Slowly is showing strong signs of being one of the sport's future stars.
He entered last night's maiden final as the youngest greyhound in the field, not due to turn two-years-old until February next year.
Thursday marked 50 days until next month's TAB Melbourne Cup, a series Langton intends to head towards with Hasten Slowly.
"If he continues to jump so well we'll definitely give him a go at the Cup.
"We had Weston East in a Cup heat (2014) when he was very young and he ran second to Above All – he was a similar age then to what Hasten Slowly is now.
"It's always hard stepping up to that class, it separates the very good from the elite."