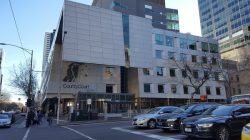 By Cam Lucadou-Wells
A man who drew a sawn-off shotgun and robbed two people in a car in Dandenong has been jailed – and then faces likely deportation to New Zealand.
Heimana Robati, 23, was driving a stolen Hilux with three unknown passengers when he pulled up close behind a VW Jetta about 9.30pm on 21 March 2016, the County Court of Victoria heard.
Chief Judge Peter Kidd, in sentencing on 18 October, said the Hilux was parked so close that the Jetta could not be moved.
Robati demanded the Jetta's driver to turn the car off, and pointed the weapon at the driver and passenger's head while demanding their mobile phones.
During the robbery, Robati took a wallet, loose change and two phones.
"Don't come back to this neighbourhood again," he told the occupants.
Robati drove off and was followed by the Jetta. He waved his shotgun at the pursuing car.
After his arrest the next day, police seized 10 grams of methamphetamine in zip-lock bags from his home.
He claimed the substance was sea-salt, and denied he was involved in the armed robbery.
The stolen vehicle was never recovered.
Chief Judge Kidd said the use of a sawn-off shotgun made the offending "more serious, troubling and indeed terrifying".
The two victims would have felt a "very high level of fear" during the hold-up.
Robati had served terms in custody for two previous armed robberies, and was on two community corrections orders at the time.
The latter reflected poorly on Robati's attitude towards the law, Chief Judge Kidd said.
It was a substantial criminal history for a man of his age, the judge said.
His disadvantaged childhood included a Year 7 education, periods of being kicked out of home and heroin and ice abuse from his teens.
Chief Judge Kidd was encouraged by Robati's drug-free stint and participation in courses while in jail since his arrest.
However, the judge was guarded about his rehabilitation prospects.
Robarti was jailed for up to four years, four months with a non-parole period of two years, 10 months. He had already served 507 days in pre-sentence custody.
The judge noted Robati faced likely deportation after his jail term, stemming from a two-month sentence for breaching a community order in 2016.
It was the chance for Robati to make a fresh start in New Zealand, the judge said.