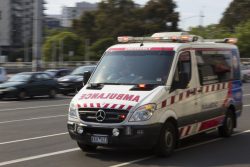 Ambulances are responding eight seconds quicker to code one emergencies in Greater Dandenong.
Dandenong MP Gabrielle Williams said latest figures showed 84.7 per cent of ambulances arrived within 15 minutes for code one emergencies in the June to September quarter.
This was up from 84.2 per cent compared to the same time last year.
The average response time for an ambulance to reach the scene of a code one emergency in Greater Dandenong improved from 11.28 minutes to 11.20 minutes.
Ambulance Employees Australia secretary Steve McGhie said there was a substantial improvement across the state.
"I'm hopeful this time next year we will see bigger improvements once again," he said.
"Considering the flu epidemic, the results are pretty good and mean people are safer and healthier.
"Responding in a quicker manner means lives are being saved."
Ms Williams said that at Dandenong Hospital, the emergency room received 18,005 people between July and September this year compared to 17,285 in the same period last year.
The hospital received 5377 ambulance arrivals in the September quarter compared to 5364 for the same period last year.
It provided operations for 85.2 per cent of all elective surgery patients within the benchmark times in the September quarter compared to 84.4 per cent for same period last year.