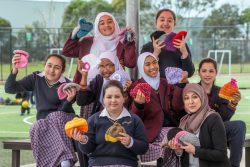 By Casey Neill
Keysborough students stitched up a top-notch donation for newborn babies and sick children.
Mt Hira College's STAAR Club students chose to take up knitting for the Monash Health Foundation during term three.
They visited the foundation in Clayton to hand over their handiwork on Wednesday 1 November.
Senior school students Fozia and Rafal started the Students Take an Active Role (STAAR) Club in July last year with help from student wellbeing head Yasemin Savran.
"Learning the skill of knitting posed some challenges initially but the students persevered to make their project a reality," she said.
"The aim of this club was to ensure all students felt a sense of belonging at school and provide opportunities for students to get involved in worthwhile school and community-based projects which are decided by members of the club.
"The club is open to all middle and senior school students once a week during lunchtime when they meet to collaborate on their chosen project."
In term two the STAAR Club was involved in the nationwide One Million Stars to End Violence and Bullying project.
They weaved stars using ribbon in school colours to show they stood united against violence.
"Our stars will be part of a larger display at the 2018 Commonwealth Games in Queensland," Ms Savran said.
Student Zaynab said she liked the STAAR Club because she could get involved in lots of different projects and meet new people.
Insyirah said: "STAAR Club is not about teachers telling you what to do, it is about using ideas to benefit our community and to have fun learning a new skill like knitting."
Another student, Fatima, said it was different from other clubs because "it gives us the opportunity to do what we want to do, what we're interested in".