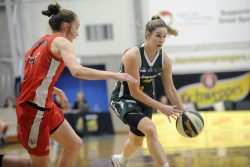 By Nick Creely
The Dandenong Rangers will need to pick up the pieces and shift their focus to regaining their mojo after a tough loss to Adelaide Lighting at home on Friday night, 69-63.
And to make matters worse, their big name star Sara Blicavs could have played her last game of the season after injuring her knee in the latter stages of the first half.
Although there is yet to be a prognosis, it is likely she will miss an extended period, and with the shortened season ending on 31 December, may not return in Rangers' colours for some time yet.
With only half a minute left to play in the second quarter, Blicavs landed awkwardly and took no further part in the match, and with it, saw the Rangers fall away as the Lightning's stellar offence took over in the second half.
Despite the strong home crowd urging the Rangers on, the Lightning held firm despite some late challenges to win a crucial match on the road.
Star Rangers Carley Mijovic (17 points, eight rebounds) battled hard for the home side, while import Kayla Pedersen (13 points, 12 rebounds) and skipper Steph Blicavs (14 points) did their best to fill the void left by Sara.
The tough loss was not lost on Rangers captain Steph Blicavs, who was visibly disappointed after the match.
"We didn't do a whole lot right, to be honest, and we didn't execute the way we wanted to – (we) didn't execute our offence, and didn't execute our defence" Blicavs told RangersTV post-match.
"I'm almost the flattest I could possibly be."
The Rangers will head down into Gippsland next Sunday when they host Bendigo Spirit at Tragalgon, where they will look to square the ledger in the win/loss column, with the Rangers currently 4-5 and in fifth spot on the WNBL ladder.
"It's really good to get down to the community – a lot of kids from down there get to our games – hopefully we can get a big turn out," Blicavs said.
Tip-off is at 2pm.