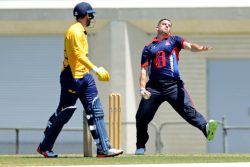 By Nick Creely
It's common knowledge in Premier Cricket that breaking up Dandenong opening duo Tom Donnell and Brett Forsyth can win or lose a game of cricket – except no one seems to know how to do it before it's too late.
And on Saturday at Shepley Oval in Round 6 action, Kingston Hawthorn found out the hard way, with the duo compiling their 14th century stand as an opening combination to guide the Panthers to a comfortable four-wicket win.
Winning the toss and batting, the Hawks got off to a swift start courtesy of aggressive openers Ramneet Dhindsa (45) and the stylish Shorye Chopra (27), reaching 56 before medium pacer Peter Cassidy (3/27) forced Chopra into an errant shot that was swallowed at mid-on by overseas recruit Steve Mullaney, playing his first game for the club this year.
Cassidy broke through twice more in consecutive balls – after the visitors steadied – to shatter the stumps of Dhindsa and catch the edge of Ryan Ninan (0), leaving the Hawks 3/101 at the half way mark.
Some outstanding power hitting and timing from Jack Taylor (61 from 45 balls) got the Hawks into a strong position for a formidable total, before Mullaney (4/53) crafted four wickets with his class despite coping some flack early to help peg back the visitors.
Despite seemingly having momentum, the Hawks managed 8/234 off their 50 overs – perhaps 30 runs short considering the form of the home side with the bat, and in particular, Donnell and Forsyth.
As they have done for the best part of a decade, Donnell (63) and Forsyth (74) combined class with brute striking power to carve their way to 126 runs for the first wicket, squarely putting the game in the Panthers' court with textbook limited overs batting.
Although the Hawks regained some momentum by picking up the scalps of Donnell, stumped by spinner Yaisru Herath (3/42), Forsyth and then Mullaney (3), the damage was well and truly done by the legendary pair.
The Panthers found the runs with ease, with James Nanopoulos (24 not out) and Jacques Augustin (4 not out) guiding the home side to victory with one over to spare.
The win leaves the Panthers entrenched into the top two with a 5-1 record, with the Twenty20 portion of the season to begin on Saturday against Melbourne.
Meanwhile, in the seconds, Comrey Edgeworth's mind boggling season continued on Saturday at Walt Galt Reserve, with the top order bat scoring his third century of the year.
After top scoring in his only ones appearance last week, Edgeworth ploughed 103 runs to see the Panthers to a comfortable win.
In the seconds this season, Edgeworth has now scored 87 not out, 38, 110, 110 and now 103, a total aggregate of 448 at as astonishing average of 112.