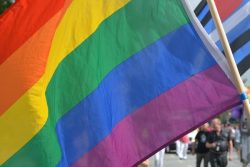 By Casey Neill
Most Greater Dandenong voters supported same-sex marriage in the Australia-wide postal vote – but only just.
On Wednesday 15 November, the Australian Bureau of Statistics announced that 61.6 per cent of voters across the country were in favour of legalising same-sex marriage.
But the Bruce electorate bucked the trend, with 53 per cent of voters supporting the no-vote.
Bruce includes Dandenong North, Noble Park North and parts of Dandenong, Noble Park and Springvale.
About 78 per cent of eligible voters returned the survey, with over-65s the majority of respondents, at 86 per cent.
Some 74 per cent of voters aged 18 to 24 returned their survey.
Bruce MP Julian Hill said he would still be voting in favour of marriage reform when the time comes for Parliament to vote on the issue.
"Representing such a diverse community, I keep to my word and vote to back equality under the laws of Australia for everyone, every time, every day of the week, in the wasteful survey and the Parliament of Australia," he said.
In Isaacs, which includes Dandenong South, Keysborough and parts of Noble Park, the yes vote was 65 per cent.
The response rate topped 86,000 people, or 81 per cent of eligible voters.
The highest return rate (86 per cent) came from those aged 65 and over. In the 18 to 24 range, 78 per cent of voters took part.
Over in Hotham, which includes Springvale South and parts of Keysborough, Noble Park and Springvale, the result was a 60 per cent yes-vote.
The response rate topped 80 per cent, with the 65-plus group again the strongest participants at 85 per cent.
Hotham MP Clare O'Neil and Isaacs MP Mark Dreyfus have both indicated they would vote in favour of marriage equality.