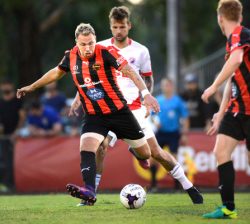 By Nick Creely
For star Dandenong Thunder striker Brandon Barnes, it all came down to loyalty in his decision to sign on for NPL 2018 down at George Andrews Reserve.
With the Thunder returning to the top flight of NPL football next season, Barnes – who is widely regarded as one of the finest strikers not playing in the A-League – is delighted to continue to share in the journey with his teammates.
"It took a few weeks to get the deal done and get the ball rolling, and I've always looked forward to putting pen to paper when the time was right," he told the Journal.
"Loyalty was number one for me – ever since I've landed in Melbourne, I've had a lot of love from everyone around Dandenong Thunder."
Despite signing on for the Thunder, Barnes – who is sponsored by F45 in Dandenong – admits the outside interest from other clubs was fairly strong.
"I had a few offers from other NPL clubs which was nice to know they had interest in me, but it was right for myself, and for my family, to stay where I am," he said.
"I did think about it (leaving), but the Thunder feels like home to me."
After claiming back-to-back NPL 2 best and fairest awards in 2017, as well as the Golden Boot after a 35 goal season, Barnes admits it wasn't his best year personally, and warned all opposition he is ready to fire in the top tier.
"For someone to not feel like you've had the best season, and then to just win the lot like I've done, shows a lot really," he said.
"People would probably be scratching their heads, and thinking about what I'd be like at my best, but following on to next season, I'm happy to be playing better opposition and teams.
The Thunder has brought in a new coach, Andy Vargas, a former assistant coach of the club, who will embark on his first senior coaching role.
"Ever since Andy came to the club as an assistant coach, we got on like a house on fire – we had a coffee last week, and it was good to have a chat with him, so I'm really looking forward to learning what I can off him," Barnes said.
The club has also confirmed the re-commitment of players such as Fraser McLaren, Zois Galanpoulos, Josh Bragg, Sam Catherine, Veton Korcari and Nick Modaffari, as well as bringing in Nick Glavan (Bentleigh Greens) and Josh Pugh (North Geelong) from rival clubs to bolster their overall depth.
"From what I gather, there is a good vibe around the club – not only as a club are we excited to be back in the top flight, but other clubs are excited to know Dandenong Thunder are back," Barnes said.