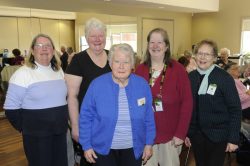 Craft talent appeal
The ladies from Noble Park CWA scooped the pool at a recent regional craft and home exhibition, but Yvonne Smith said more talent was always welcome.
The group meets on the second and fourth Mondays of the month at 10am at the Paddy O'Donoghue Centre in Noble Park.
Ms Smith said the second Monday was a craft day and ran until 1.30pm.
Show up on the day or call Ms Smith on 9547 7261 for more information.
Flag waving
Wurrundjeri elder Aunty Pat Ockwell is "very happy" that the Torres Strait Islander flag has joined the Aboriginal and Australian flags at the Dandenong Civic Centre.
She told the Greater Dandenong Council special meeting on Thursday 16 November that the flags were sisters and "they are supposed to fly together".
Aunty Pat said the blue represented the sea, the green was for the islands, black was for the people, and the white symbol was a male headdress.
Time for sharing
Should the Greater Dandenong mayorship be shared around?
It's often said that the Australian Labor Party (ALP) decides who'll hold the role, but some party insiders told the Journal they would have preferred to see Green Matthew Kirwan get a turn this time around.
The year ahead will be Councillor Youhorn Chea's fourth mayoral term.
Cashed up councillors
Greater Dandenong councillors will receive the maximum councillor allowance for the next 12 months.
They agreed to give themselves the $29,630 figure at the special council meeting on Thursday 16 November.
Mayor Youhorn Chea will receive a $94,641 allowance.
Direction finder
"You've even been my GPS sometimes."
Councillors were full of praise for assistant Jo Thorn at the Thursday 16 November special meeting, none more so than the directionally-challenged councillor Maria Sampey.
Skateboard Olympics
With skateboarding now an Olympic Games sport, councillor Roz Blades thinks Noble Park's Ross Reserve Skate Park could be in prime position to produce podium stars.
Greater Dandenong community services director Martin Fidler told the Monday 13 November meeting that he was keen to explore some opportunities to host trials and training.