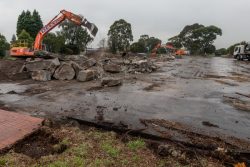 By Casey Neill
The Education Minister is considering a Keysborough community plea to save their park.
Residents contacted Greater Dandenong Council after learning that Chandler Reserve on Chandler Road was considered part of the disused Maralinga Primary School block.
Councillor Roz Blades reached out to Keysborough MP Martin Pakula, who said he understood that community members didn't want to lose the park in the Education Department's imminent sale of the site.
"I've been advocating strongly on their behalf," he said.
"I've raised their concerns with the Minister for Education and he is looking into the matter, and I will update the community as soon as possible."
Phillip Brown lives adjacent to the park and said hundreds of people used it each day for health, wellbeing and recreation.
He said the council had maintained the reserve for community use for more than 40 years through a deal with the Education Department.
"The park is used for fitness due to the encircled walking track by many young people, mothers with babies in prams and many elderly persons," Mr Brown said.
"The open area in the middle is used frequently for flying kites, football, soccer, rugby and the walking of pets.
"The playground equipment is also used by hundreds of children."
He started a Facebook group to rally residents and asked the council to intervene.
Cr Blades said: "The government can still sell the school – which they intend to do – but this is an area that's separate, outside that the community loves.
"That's why some of the residents bought in that street.
"They wanted to be near the open space for their kids."
Maralinga closed following a merger with Chandler Park Primary School and was demolished earlier this year.