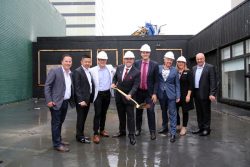 Work has started on what will be Dandenong's tallest building.
On his last day in office, outgoing Greater Dandenong Mayor Jim Memeti turned the first soil on the Spectra Building project on Wednesday 15 November.
The Thomas Street tower will stretch 20 storeys skyward when complete and be home to the city's first 4.5 star hotel, 56 apartments and retail shops.
"Not only will this development visually change Dandenong's skyline, it represents a significant milestone in the revitalisation of central Dandenong," Cr Memeti said.
Martyn Barnes, managing director of Spectra developer Barnes Capital, said he was proud to be part of the Revitalising Central Dandenong (RCD) project.
"The Dandenong community is growing and changing in ways we can only begin to imagine," he said.
"We are excited and proud to be part of the growth and change of this vibrant and diverse community."
The State Government announced RCD in 2006 as a $290 million, 15 to 20-year project involving seven hectares.
It is expected to attract more than $1.2 billion in private sector investment.
More than $500 million has been invested to date and several key projects are underway or complete, including the Dandenong Civic Centre, the government services building, Quest apartments and the new Australian Tax Office site.
Competition from neighbouring areas in the 1990s and early 2000s took retail, entertainment and amenity facilities from Dandenong and the area declined.
RCD is encouraging new development and job-creating economic activity.