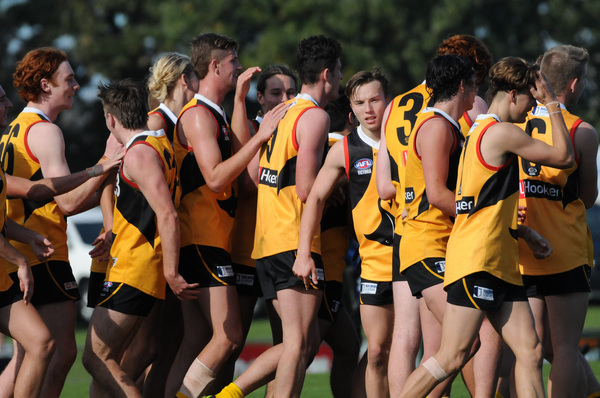 By Hayley Wildes
It all comes down to this.
On Saturday, 22 September at IKON Park, the Dandenong Stingrays will take on the Oakleigh Chargers for the 2018 TAC Cup premiership.
The Rays will be chasing the club's maiden TAC Cup premiership in what will be Craig Black's final game as coach, as he will be joining Collingwood next year in a development role
Whilst the Stingrays will enter the grand final having not lost a game since April, the Chargers present a formidable challenge having won their last three games – two of which were win-or-go-home finals – by 90 points or more.
The Rays have been the best and most consistent side all year – highlighted by their 18-1 season record – and in their two finals have shown no signs of complacency; defeating the Rebels by 110 points and the Dragons by 42 points on Saturday.
The Chargers' season record of 12-5-1 showcases that they can be beaten, but they have had an array of stars come back to TAC Cup football late in the season after the completion of school football and have simply dominated opponents when at full strength.
The Chargers sent a warning sign to the Rays on Saturday, completely dominating the second-placed Gippsland Power to earn a spot in the big dance with a 93-point win.
The edge for the Rays is their connection – they have played together all season and while the Chargers have rushed back stars lately, Dandenong's bond and willingness to work for one another is undeniable.
"It's been a great year," Stingrays talent manager Mark Wheeler said after Saturday's preliminary final win.
"This group is very tight and focused – they know what they want to achieve together. Now we have seven days to prepare for the biggest day for the club."
The midfield battle will be absolutely crucial. Dandenong will need the likes of captain Campbell Hustwaite, Jai Taylor, Toby Bedford and Sam Fletcher to stand up.
Dandenong's backline has been tremendous in 2018, smothering opponents and working as one to defend first and then catapult forward. Matthew Cumming, Daniel Frampton, Matthew Cottrell, Matthew Gahan and Will Hamill will undoubtedly have their hands full as they attempt to slow the Chargers rampaging attack.
The Rays' two dominant bigs; Bailey Williams and Riley Bowman loom as x-factors. If they can take the game by the scruff of the neck, Dandenong will be well placed to claim its first ever TAC Cup premiership.