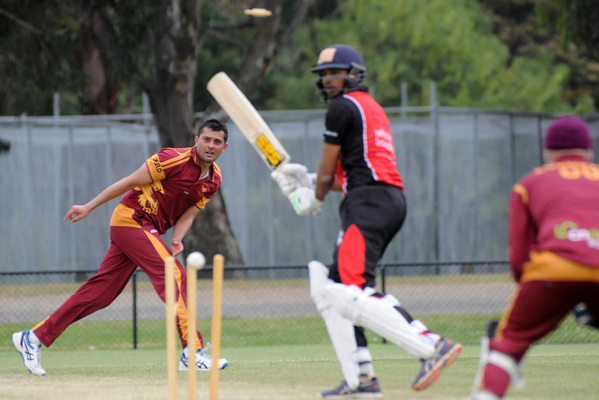 By Nick Creely
North Dandenong star Akshay Ballal is emerging as one of the DDCA's most prized match-winners.
In yet another stunning performance on Saturday – once again against the inconsistent Berwick side at home in Turf 1 – Ballal ripped apart the seasoned Bears' batting order to set up a sensational win, and left the Maroons just percentage from third spot.
After an aggressive cameo from Declan Fowler (45) lifted the home side to 158 after winning the toss and batting, it was always going to be a hard ask defending against a batting order featuring the in-form duo Nathan Pilon and Jordan Cleland, as well as skipper Matthew Chasemore.
A rapid start saw the visitors swiftly notch 33 for the first wicket, but that's where the home side began to fight back into the contest.
Despite Chasemore's (61 not out) grit and determination to guide his side to victory, Ballal produced a stunning spell, snaring 5-14 and tearing apart the middle and top order to leave the visitors shell shocked and staring down the barrel of another tough loss.
In Round 1, Ballal's 110 with the bat proved the downfall of the Bears at Arch Brown, so he's starting to cause plenty of nightmares for Chasemore's side.
Eventually the Bears were shot out for 128 in the 34th over, with Muharjithan Thedchanamoorthy (3/28) also continuing his strong form.
Elsewhere, Mordialloc kept its season alive with a complete domination of premiership fancies Springvale South at Ben Kavanagh, clawing off the bottom of the table.
The Bloodhounds produced their most frightening performance since last year's grand final win, overcoming a solid start and taking complete control.
After Bloods opening pair Nathan King (41) and Michael Vandort (57) got off to a fine start, the Bloodhounds – led superbly by Ian Daniel (3/17), Dylan Campbell (2/23) and Liam Bence (2/30) – skittled the visitors, rolling them for just 135 in the 38th over.
Incredibly, after the Bloods' opening pair, no batsmen scored double figures, including Steven Spoljaric, who made a surprise duck.
In reply, Ian Daniel (97 not out) showcased his abundance of class to completely blow the Bloods away, helping his side reach the total with just one wicket down.
Hallam Kalora Park, meanwhile, is now inside the top four for the first time this season after a comfortable win over bottom placed HSD.
A disciplined bowling display, led by Chris Periera (4/32), saw the Hawks restrict the Cobras to 9/140 after 40, with Michael Davies fighting hard with an unbeaten 47.
Despite taking the game until the very last over, the Hawks got to the target without much fuss, with Jordan Hammond (53) leading the way and his side took the points with four wickets left in the shed.
And Buckley Ridges (7/175) held off St Mary's (9/166) at Carroll Reserve to surge 10 points clear at the top of the ladder.