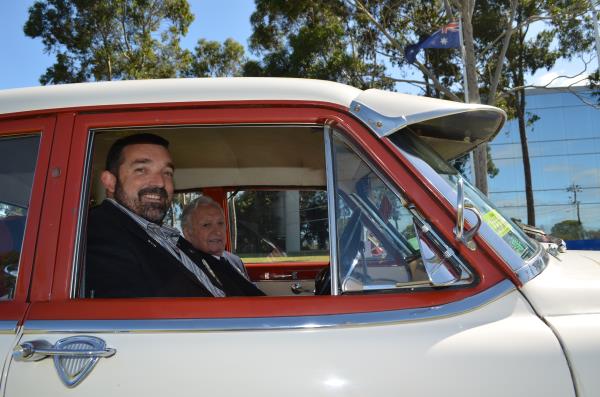 By CAM LUCADOU-WELLS
IT'S not hard to imagine this amiable pair of veterans filling the cabin of their 1959 FC Holden with a string of good-humoured yarns as they cruise to this month's Anzac Day march in Melbourne.
For the past 10 years, Noble Park World War II veteran Kevin Nichols has been voluntarily driven to the march by Navy ex-serviceman Derrick Roberts.
The pair will travel through Melbourne's streets in resplendent style in Mr Roberts's meticulously restored vintage car right at the head of the march.
Mr Nichols is keen to talk football – especially about winning big when backing his beloved Bulldogs to win the 1954 VFL flag.
The way he tells it he asked a Mordialloc bookmaker before the grand final what his price was for the Bulldogs.
The bookmaker replied: "The bloody Bulldogs? I'll give you 12-to-1."
Mr Nichols jumped on the offer with "10 quid".
His winnings were the equivalent of the sum for a "decent car" though he has no idea what he might have spent them on.
Mr Nichols was a freshly-enlisted 18-year-old serving in Solomon Islands and Bougainville during World War II.
His role was as a forward scout – which is not a football term, but rather "the idiot who goes first".
He said fighting was just about to erupt with a "whole lot of Japs" in front of his battalion in New Guinea when the Hiroshima and Nagasaki atom-bombs closed the war.
Mr Roberts helped enforce UN sanctions by inspecting merchant ships in the Persian Gulf at the end of the First Gulf War.
The pair hooked up through an RACV program matching volunteer drivers with veterans needing a lift to the march.
Until Mr Roberts came on the scene, Mr Nicholls had never been to the march. It's now something he looks forward to.
"He treats me like I'm the last bloke on Earth," he describes his travelling companion.
After the parade, the pair expect to share a couple of rounds at Noble Park RSL.
Mr Nichols, now 90, has a few less beers than when Mr Roberts first shared the day with him.
Mr Roberts, a Bombers supporter, said he has no qualms about giving up seats at the MCG to spend time with his mate on Anzac Day.
"Kevin and I got on famously since the start. He really appreciates it – he is at the head of the march.
"By the time he sits down at the cenotaph, he gets to see the rest of the marchers and has front seats at the service.
"We keep in touch with a couple of calls during the year."
If you know a veteran who needs transport on Anzac Day, contact Lisa Hogan at RACV on
9790 2975 or lisa_hogan@racv.com.au.