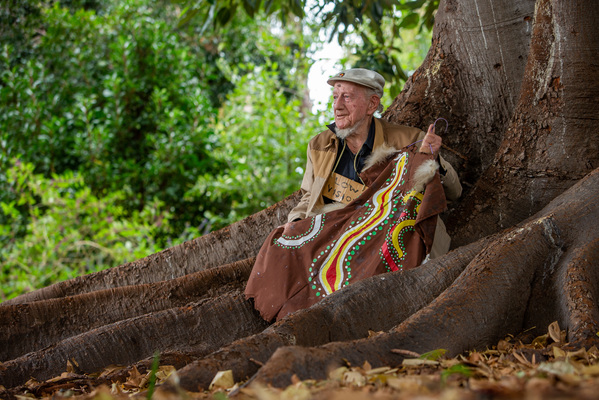 Relics of the former Dandenong-based Bunjil ACDC (Aboriginal Culture and Dance Club) of Wurundjeri and other Nations group are on display in an exhibition at Laurel Lodge, Heritage Hill.
The exhibit's curator Granddad Gardiner, 91, was part of the dance group that formed in 1992 to promote Aboriginal culture and spirituality.
It disbanded in 2010 after more than 250 performances, including dancing in front of 70,000 footy fans at the MCG and marking the official opening of Drum Theatre.
The group's efforts are embodied in their Bunjil Eagle totem pole, and hand-painted costumes depicting stories of the Aboriginal law and punishment system on display.
"This exhibition takes visitors on a journey that really highlights the true essence of our culture," Granddad Gardiner said.
"It is an exhibition that tells a story that everyone can enjoy and we have received such positive feedback since the exhibition opened."
The group is now seeking a permanent location to display its costume and props for the education of the community.
The exhibition is at Heritage Hill Museum and Historic Gardens until 12 July. It opens Tuesday-Fridays, 10am-4pm.
A special screening of John Hughes's award-winning documentary After Mabo will be shown at the exhibition on Thursday 30 May, 1pm. Bookings essential on 1300 630 920 or in person at a Greater Dandenong library.