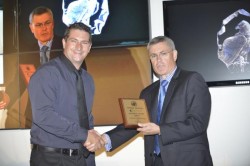 By CASEY NEILL
FLEXICUT Engineering director Robbie O'Brien founded the Dandenong company in 2006 at age 26.
Last week he was a finalist for the Young Manufacturer of the Year title at the Victorian Manufacturing Hall of Fame awards.
He started his career as an apprentice fitter and turner with Larry Perkins Motor Sport, where he was introduced to a computer numerical control (CNC) machine during the third year of his apprenticeship.
Mr O'Brien regularly worked back to 10pm to get the job done and continue his learning and development.
When he finished his apprenticeship he went to work with leading CNC machine sales organisation John Hart and spent two years learning more about the machine range and how various businesses used them.
He had an unwavering belief he could do it better than most, borrowed $30,000, bought a secondhand machine and leased a small factory.
Larry Perkins Motor Sport was his first customer and word of mouth helped the business grow.
Mr O'Brien understood that motorsport needed first-class quality, delivery as close to immediately as possible, and a price that didn't reflect the speed or quality.
When Larry Perkins employees moved to new teams they took FlexiCut with them.
Today, FlexiCut can not only machine but also weld, fabricate, grind and engage in prototyping and reverse engineering.
Its turnover has grown from nothing to more than $1 million in just over six years, and Mr O'Brien expects the growth to continue.
He's passionate about being at the forefront of technology, and he was named the Australian Manufacturing Technology Institute Limited (AMTIL) 2008 Advanced Manufacturing Young Ambassador of the Year.
The award included an extended trip to Japan to visit sites and learn more about CNC machining.
FlexiCut Engineering is committed to offering same-day quotes wherever possible, often starting a job before their competitors have offered a price.
And FlexiCut often stamps a customer's logo or name in their part free of charge.
"We're selling a service, the experience," Mr O'Brien said.
"We want repeat business from our customers."
He'd planned to establish his business in Dandenong and then move it to his small home town.
"But Dandenong's been too good to me. Everything's right on my doorstep," he said.
"The phone's always ringing with people who want to help you out."
FlexiCut was also a nominee for the 2013 Greater Dandenong Chamber of Commerce Premier Regional Business Awards.