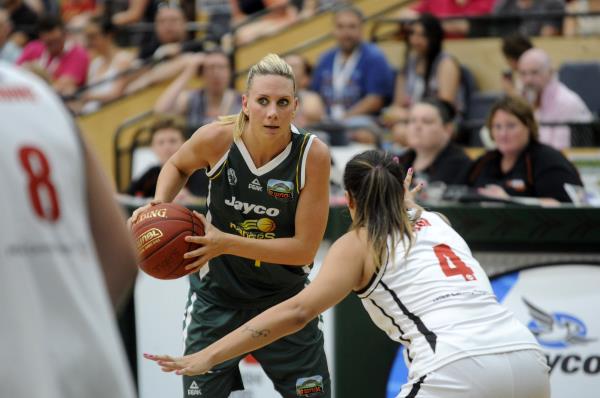 By RUSSELL BENNETT
FOR the first three quarters of Penny Taylor's return to the Dandenong Rangers' WNBL lineup on Saturday afternoon, it was the intangibles that set her apart.
The Australian Opals captain's ability to disrupt Townsville's passing lanes, to alter shots, box out and throw long outlet passes to team mates in transition played a huge role in keeping her side in the contest when it was outplayed for large parts of the first half.
But her fourth quarter showed why she's one of the world's best basketball players.
Three huge, clutch three-pointers – the last with just 28 seconds left – were key in the Rangers turning a four-point deficit with just 3:40 left on the clock into a seven-point win, 79-72.
Taylor only had nine points to her name through the first three quarters but finished with a Rangers' team-high 21 to go along with five rebounds and four assists in front of a strong home crowd that would no doubt have been bigger if not for the game being televised on the ABC, and in its 3pm timeslot.
Star US import Cappie Pondexter, who Taylor has won two WNBA championships with as a member of the Phoenix Mercury, also finished with 16 points, four assists and three steals.
But it was reserve big Lauren Scherf who Rangers' coach Mark Wright named his player of the game. With just one training session under her belt over the past two weeks – due to her Year-12 exams – the 18-year-old was vital in getting her side a massive win over the previously undefeated Townsville. Make no mistake – this victory could be the turning point of a Rangers' season that has started so inconsistently.
"It's been really tough for the players who've been beaten up physically – they're tired and fatigued from some pretty tough losses – so it was really important that we re-gathered," Wright said.
"Like a good team that I'm hoping they'll become, they rallied and played a great team game today and showed our fans and the national basketball audience what's in store.
"Penny Taylor is just world-class and any time you bring a player like that into the team it's going to make the team better and all the other players better.
"There was a real indication of that today in how we responded."
The Rangers were down by three points at the end of the first quarter before tying the scores 41-apiece at the half. Yet Townsville bigs Suzy Batkovic and Cayla Francis were posing all sorts of issues for the Dandenong front line in the low-post.
Batkovic had a 14-point, 10-rebound double-double with a quarter still to play but some standout defensive work by Scherf (11 points, 6 rebounds, 2 blocks) kept the Opals star to just two points and four rebounds in the deciding final term. Francis led the way for Townsville with 17 points.
The Fire still remain on top of the WNBL ladder despite the loss, while the Rangers are looking to make their run from seventh.