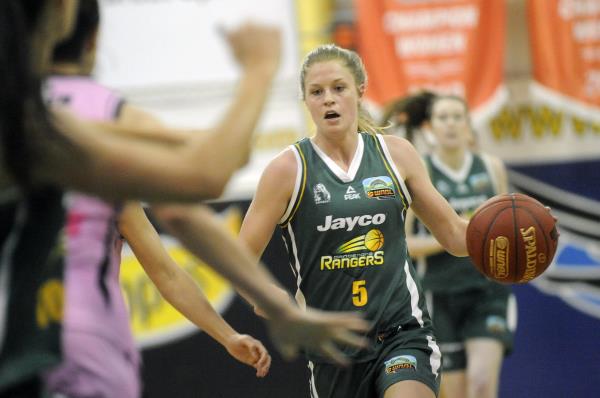 By JARROD POTTER
RELISHING her chance to shine in the starting five has paid off for Dandenong Rangers' guard Aimie Clydesdale, with her selection in an extended Australian Opals' squad.
Clydesdale, 21, from Endeavour Hills, has excelled in her limited time in the Rangers' WNBL starting five after a horror knee injured sidelined regular point guard Kathleen Macleod. On the back of her WNBL success Clydesdale has earned a spot in the Opals Rio Qualifiers' squad.
She couldn't believe she was selected for the 34-woman squad set to battle it out for spots as Australian Opals.
"It was a bit of a shock actually," Clydesdale said.
"I didn't get the email or anything, everyone started messaging me saying 'congratulations' and I was like 'what for?'
"It's a real honour to be a part of it (Opals extended squad)."
Despite the Rangers bowing out of the WNBL championship race on Saturday – in its 80-89 loss to Sydney Uni – Clydesdale thought the year was incredible, with the fighting spirit getting Dandenong back into finals' contention after a horror start.
"it was good – it was a roller coaster – started out with however many losses that was – wasn't even looking like we'd make finals, so to fight back and make the finals was such a goal for us and it's such a shame that we lost this semi.
Dandenong coach Mark Wright was not surprised the point-guard prodigy was selected in the squad as it has been a breakout season for Clydesdale.
"Aimie proved today (Saturday) that there's a very good reason for it, in case there were any questions about her," Wright said.
"She can certainly handle herself in this league and I'm really happy for her.
"Aimie Clydesdale is a classic example of a kid who has done her time on the bench and waited for her opportunity and sucked as much knowledge out of everyone as she can and is now putting it to good use."
Rounding off the local talent in the roster is one of Australia's best basketballers, Penny Taylor who originally came from Belgrave South, and has been in elite form for Dandenong this season, since arriving mid-way through the WNBL campaign.
Clydesdale's Rangers team mates Alice Kunek, Macleod and Lauren Scherf were also selected on the shortlist.
Former Dandenong Ranger and current Townsville Fire guard Steph Cumming, also from Endeavour Hills, earned her selection in the 34-player extended squad.
A shortened squad of a maximum of 24 players for the upcoming camp at the Basketball Australia National Centre of Excellence (CoE) in Canberra will be announced this week.
The Olympic qualifiers will be played in August.