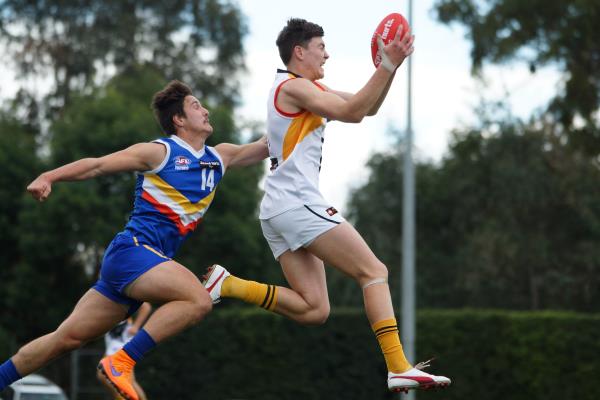 By JARROD POTTER
DANDENONG STINGRAYS – ROUND 12 TAC CUP PREVIEW
FRESH faces and some familiar names return to action for Dandenong Stingrays this week as the TAC Cup side treks up the Hume Freeway.
Brothers of former Stingrays and perhaps a couple of potential picks come this November's draft will slot back in to the roster on Saturday morning.
With it's Vic Country contingent out of action for this round only – likely celebrating after taking the national championship with a 32-point win over Western Australia on Thursday – the Stingrays' depth will be tested one last time when they battle the Calder Cannons at Highgate Reserve.
Sitting third on the TAC Cup ladder – split only by percentage to Murray – the Stingrays' season is going from strength to strength even with a fleet of major outs to Vic Country, schoolboys and injury so far.
Dandenong Stingrays coach Craig Black puts it down to a strong list this season, particularly impressed with the contributions up and down the squad, and they've performed while the carnival has pulled Stingrays out of TAC Cup.
"Just want them to compete and take the opportunity – our big focus is on our effort, there will be one guy from this group that steps up and takes the opportunity to stay in the team, so that's what I'm excited to see," Black said.
"I think at times they've all had their opportunity and all taken it in one game or another – Gladman one game kicked four, Sammy Pickess came in as an emergency and has stayed in the side, Dipper (Di Pasquale) after round two, it looked like he was going to miss out, but we had an injury and he came in – so they've all come in and played their role and taken the chance.
"Obviously next week will be tougher when there's seven Vic Country kids available, but that's next week – so I'm not even worried about that until Tuesday night after the game."
Melbourne fans will be champing at the bit to see Jake Lovett – potential father-son prospect this season – make a strong finish to 2015 as he returns from a hip injury that happened in round eight.
"Lovey has missed seven or eight weeks with a hip – any time we get our leaders and guys that have played at this level significantly before is a bonus for us," Black said.
"To get them while we're missing seven through Vic Country is a big in as well."
After four games with Berwick in the SEFNL and jotting down some stellar efforts with Haileybury, Ryan Gains – brother of former Stingray Jake – will get his first run in the red, black and yellow on Saturday, and Black said the young defender could barely contain himself when he heard the news.
"It's always good and he's another one – we've wanted to give him an opportunity for a few weeks now, but being at Haileybury we're limited as to when we can get him, but it's great when you can tell somebody that they're going to play their first game," Black said.
"He had the biggest smile on his face for a couple of days – always a feel good story when you can give someone an opportunity and we'll play him down back and like everyone else, if he comes in and can compete and plays the role to the best of his ability, we're happy."
Also returning to the roster will be schoolboys pair Thomas Jok and Josh Battle.
Dandenong clashes with Calder Cannons from 11.30am at Highgate Reserve, Craigieburn.
DANDENONG STINGRAYS LINE-UP – ROUND 12
B: Stoffels, J. Rouse, Batten.
HB: Holden, McKay, Pickess.
C: Jok, Cox, La Fontaine.
HF: Young, Freeman, Downie.
F: Gladman, Battle, Poholke.
R: Prior, Kiely, Di Pasquale.
Int (from): Nicholson, Machaya, Odell, Turnbull, Lovett, Bubb, Gains*, Warke.