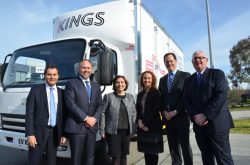 By Casey Neill
Australia's first commercial electric vehicle hit the road in Dandenong South.
SEA Automotive handed Kings Transport the keys to the first of nine SEA EV10 electric trucks on order on Wednesday 12 July.
It can travel 200 kilometres on a single charge.
"The quantum shift has now officially occurred," SEA executive chairman Tony Fairweather said.
"Wouldn't it be fantastic to not hear the noise or smell the exhaust fumes from those large waste collection trucks that visit each of our homes at least once per week?
"This is not just possible now, it's inevitable.
"The technology is better and cheaper than ever and forecast to be substantially more efficient and one third of the current cost by 2020.
"The internal combustion engine will soon be no more."
Energy, Environment and Climate Change Minister Lily D'Ambrosio and Dandenong MP Gabrielle Williams attended the launch event.
Taking a spin in the electric truck.
Mr Fairweather said it was the culmination of more than three years of testing and development.
"It's been about waiting for the right time to be able to develop our technology and for the cost of the technology to get to the point where they're viable," he said.
The technology can also be used to repower existing diesel vehicles.
SEA Automotive employs about 25 people.
"We're producing the first 20-odd vehicles here and then we have plans to expand, most likely in the south-east, most likely very close by," Mr Fairweather said.
"We could be producing anywhere from 300 to 400 vehicles in the very short term and needing somewhere between 80 and 100 employees.
"An Australian electric vehicle industry could more than offset the loss of Australia's passenger car manufacturing industry.
"Many of the parts that we still need to import could be readily developed and supplied by Victorian companies with enormous export potential.
"The skills needed for this industry are already available, however the time is now to capitalise on this opportunity before other countries take a leadership position."
Mr Fairweather said the technology was more expensive to procure and install than an internal combustion engine, but running costs were substantially cheaper.
The truck handed to Kings was about $40,000 more expensive than its diesel equivalent, but will cost $12,000 less to run each year.
"The cost of the batteries is coming down every year," he said.
"We forecast that by 2020-21 the actual cost of the vehicle will be the same cost of a diesel vehicle."
SEA Automotive received $517,000 from the State Government's New Energy Jobs Fund in October last year towards the project.