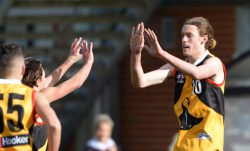 By Nick Creely
TAC CUP REVIEW – ROUND 13
There is perhaps no better team placed to challenge for a TAC Cup premiership than the Dandenong Stingrays.
With a sixth straight win over Northern on Saturday morning, the 'Rays now move within touching distance of top spot.
And boy, do they look dangerous.
The 'Rays ran the Knights into the ground, and with high profile stars Oscar Clavarino, Luke Davies-Uniacke, Tom De Koning, Hunter Clark and Bailey Williams back in the fray after Vic Country and school football commitments, dismantled their opposition with utter brutality.
In heartwarming scenes to begin the game, returning star Aiden Bonar – who has just recovered from two ACL injuries- slammed through the first goal of the game, setting a tone for a four goal first term that set them up for a 17-point quarter time advantage.
That advantage soon became 38-points at the main break, with Davies-Uniacke (two goals) and Riley D'Arcy (four goals) playing inspiring football.
With the game virtually buried midway through the third and the 'Rays holding a nine-goal lead, the Knights crept back in during the last quarter to slash the margin to a respectable 29 at full time.
Skipper Clavarino – who was last week named full back in the Under 18 All-Australian team – was simply stellar patrolling the back half, utilizing his excellent hands to intercept everything in his wake.
At the other end of the ground it was all Riley D'Arcy, with the bullocking forward kicking four majors and bringing his tally up to 23 for the season (fourth in the competition).
But in the end, every player was a winner, with a whole team defence placing maximum pressure on the opposition and covering the ground with speed once the ball was turned over.
Worriyngly now for most teams is the fact that the Stingrays will have its full arsenal available for the rest of the season as it prepares for an assault on its first ever TAC Cup premiership.
There will be another development weekend next week meaning no TAC Cup football will be played, but the Stingrays return to the field on 29 July to face off with Gippsland Power at Frankston Oval.
DANDENONG STINGRAYS 4.1 8.2 12.5 14.5(89)
NORTHERN KNIGHTS 1.2 1.6 4.7 8.12(60)
DANDENONG STINGRAYS
GOALS: R. D''Arcy 4, L. Davies – Uniacke 2, A. Bonar, F. Bayne, J. Taylor, J. Nanscawen, R. Bowman, J. Plumridge , L. Young, T. Dekoning
BEST: O. Clavarino, J. Davies, R. D''Arcy, A. Paterson, L. Davies – Uniacke, M. Riordan
NORTHERN KNIGHTS
GOALS: P. Naish 2, P. Della Rocca 2, N. Coffield, O. Wilson, M. Harman, S. Binion
BEST: O. Wilson, A. Federico, M. Baker, P. Della Rocca, T. McKenzie, R. Bowkett